Student-run clinic adjusts to new location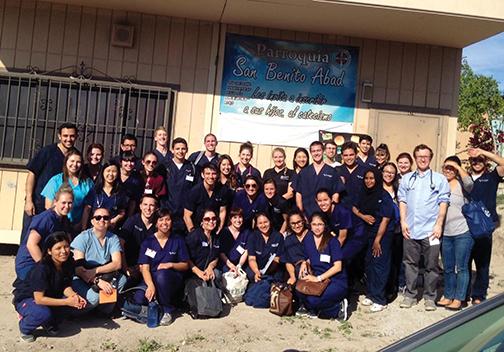 A San Diego State student organization that provides free medical services in Mexico is refurbishing a clinic and revamping its services after being asked to relocate.
Members of the nonprofit organization, Flying Samaritans, visit Ejido Matamoros, a disadvantaged community 15 minutes south of the border, once a month to provide free general Medicare services such as physical therapy, distribution of medications and more.
Recently the club has had to move locations, presenting a unique challenge for the organization to rebuild the clinic. At the beginning of the semester, the group relocated from a church to a nearby dental location because the church area was crowded and the local priest wanted to focus on offering church services to residents in the community, President of Flying Samaritans Adriana Guzman said.
The club was provided with a building not too far from its previous clinic and it was allowed to resume its medical services. But the building lacked even the basic necessities the Flying Samaritans needed to operate, such as chairs, exam tables and room divisions to provide each patient with privacy.
"We didn't have to really find a new location because it was already there, but definitely had to figure out a completely new flow," Guzman said.
The group worked to get the new location up to standards for two months and in March, the Flying Samaritans opened up its new clinic.
Gabriel Vahi-Ferguson, a founding member who graduated in May 2014 with a degree in pre-medicine, is optimistic about the new location.
"Our clinic is now on a paved street and that is a huge benefit when compared to other houses in the area," he said.
But their work is far from over. Guzman said the group is now focusing on the aesthetics of the building and the surrounding area. The club plans to paint over the graffiti on the new building, in addition to installing a walkway and ramp to make the clinic more accessible to the patients.
Natalie Parker, a member who will become an executive officer for the group in June, said the work Flying Samaritans does is motivational.
"It gives me an opportunity to work with healthcare providers in a professional setting while also being able to provide care to people who are in desperate need," she said. "I am able to use my certifications in a way which benefits an entire community and that means the world to me."
Anyone interested in joining Flying Samaritans or donating money and basic needs can visit its website.
"We tend to target a lot of the pre-health students just because that's the audience we're in contact with most, but the club is open to all SDSU students and we do want to get more students involved because we do need help," Guzman said.