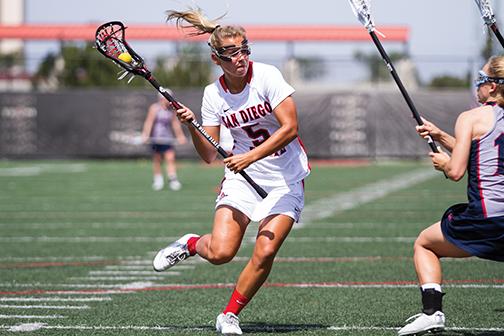 The San Diego State lacrosse team's most successful season in its short history will come to a close this Saturday when the team faces University of Southern California.
The Aztecs (9-6, 5-3 Mountain Pacific Sports Federation) are guaranteed to finish over .500 for the first time, a milestone for the young program.
The program will also be searching for its first victory over USC (11-4, 7-1 MPSF), who boasts a 2-0 record against SDSU.
USC is coming off its first conference loss of the season, falling to undefeated Stanford University 12-6 last Sunday. This result came two days after the Cardinal demolished SDSU 22-10.
It will be a big weekend in deciding MPSF playoff seeding as well.
SDSU can clinch at least a four seed in the upcoming tournament with a home win vs. USC.
It will not be an easy contest.
The Trojans are one of the top defensive teams in the nation as they allow 7.87 goals per game, which is good for 14th in the country. 
USC's highest scoring player, sophomore attacker Michaela Michael, leads the offensive unit. Michael has netted 45 goals in her second season, making her the No. 19 scorer nationwide.
San Diego State head coach Kylee White knows the competition level will be high in this showdown, and she expects near perfection from her team.
"We have to make sure we capitalize on every opportunity," White said.
The Aztecs have not been doing as much of this lately.
After its seven game win streak, the team has gone 2-4, and averaged only 9.5 goals per game.
Big contributions will be necessary from the Aztecs' senior leaders.
Senior Christina Ricciardulli will look to add to her team-high 33 goals this year. Seniors Lauren Maack and Michaela Jarvis will also be trying to improve on their 20 assists, each.
But the real key to the game will be to simply keep possession, something they were not able to do against Stanford University or University of California, Davis.
"The best way to beat USC is to have the ball," White said. "We lost a lot of draw controls and committed too many fouls in our last few games, and it hurt us a lot. It's hard to win a game when you don't have the ball."
Besides being huge for MPSF seeding, the game on Saturday will be a very emotional day for many seniors.
This is the first four-year group to be graduating for the Aztecs, and Saturday will be their final home game.
The fan turnout will be huge in giving the Aztecs a much-needed home field advantage.
On average, 410 fans have been at every game so far this season, which exceeds the 199 average fan turnout from their opponents.
"We definitely get much more excited for home games," White said. "Especially this one, because its a special day for our seniors. We want to send them out right."