Entrepreneurial team wins award for international social impact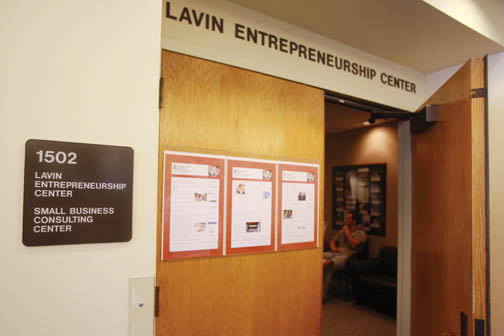 A group of San Diego State students won first place two weeks ago at a social entrepreneurship competition for creating a tool that will revolutionize Ethiopian farming.
The team traveled to the Richards Barrentine Values and Ventures Business Plan Competition at Texas Christian University, where they earned a unanimous victory and $150,000 to supply farmers with the tool.
"We want to show them that there is a better future," said Peter Morrill, the SDSU business undergraduate who presented the project.
The winning tool, called a thresher, will maximize productivity while reducing the time and effort it takes to remove grain from husks and stalks. Currently, it takes about 14 hours for five farmers and four donkeys to harvest two pounds of grain, but the new thresher will allow two farmers to produce seven and a half pounds of grain in the same amount of time, Morrill said.
The thresher was created to harvest teff, a grain which is eaten with almost every meal in Ethiopia, teammate Gemechu Abraham said. He graduated from SDSU in 2012.
"For them, it's similar to grabbing a tortilla," he said. "Every meal in Mexico is served with an aspect of tortilla. The same thing goes for injera (a sponge-like flatbread)."
By providing the means to harvest large quantities of teff, the SDSU team believes it can positively shift the town's struggling economy.
Teff exportation from Ethiopia is currently banned because it is such a limited resource.
"We need to empower these people to be entrepreneurs," Abraham said. "We do that by providing the machine, and then they can sell their crop and essentially alleviate themselves from poverty."
Ameliorating poverty in Ethiopia first peaked Abraham's interest while visiting his family in the rural village of Simbo in 2012. When he returned to Simbo the following year, he noticed how the farmers' techniques were hindering the community's ability to thrive.
"The way they were farming was very outdated," Abraham said. "They were literally taking (oxen) in circles and circles."
In Simbo, parents pull their children out of school so that there are enough hands to tend the crops, he said. Although efficient machines are available in larger Ethiopian towns, Simbo farmers do not have the resources to purchase them.
When the tool was presented to the residents of Simbo, they were in awe, Morrill said.
"They didn't really understand how the machine could work or why a group of SDSU students even cared," he said. "But once they saw the machine working, they couldn't believe it."
On the way to the competition, Morrill's cab driver had family in Ethiopia and was almost moved to tears when he heard about their project.
The winning team attributes much of their success to Michael Sloan, the director of social entrepreneurship programs at SDSU's Lavin Entrepreneurship Center.
"I personally feel that without him, this venture might not have even gotten off the ground," Morrill said. "That man is a genius and we wouldn't be here without him."
The team's next step is getting the newest prototype to Ethiopia for testing. Once the model is perfected, the members plan to distribute more than 400 threshers, which have already been funded by the nonprofit organization Project Concern International.
The machines, which will be rented or sold between farmers, will generate production and therefore income that will aid the entire community, Abraham said.
"Being able to impact so many individuals on a greater scale and ultimately empower them to be out of poverty — it's something that gets us up and out of bed every day," he said.