Aztecs hope to hear names called in NFL Draft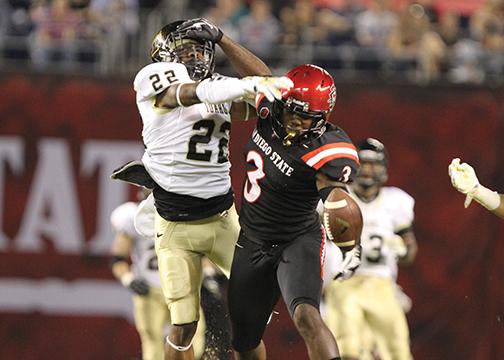 The 2015 NFL Draft begins Thursday and runs through Saturday in Chicago, as hundreds of college football players will wait to hear their name called.
Two of those players are former San Diego State football talents: wide receiver Ezell Ruffin and offensive lineman Terry Poole.
They stand as the only two members of the team who were invited to the NFL Combine in February, thanks to their productive careers on the Mesa.
Last year, safety Nat Berhe (fifth round, New York Giants) and safety Eric Pinkins (sixth round, Seattle Seahawks) made up the SDSU contingent that was selected in the draft.
In total, head coach Rocky Long has seen 11 Aztecs drafted in his four-year tenure, most in the Mountain West during that time.
Other players, such as fullback Chad Young, wide receiver Colin Lockett and offensive lineman Bryce Quigley, landed on teams as undrafted free agents last year.
Linebackers Derek Largent and Cody Galea should have that same opportunity following the draft, after both impressed in their pro days.
Largent's bench press, 40-yard dash and vertical jump would have all been in the top 10 for linebackers at the NFL Combine, had he been invited.
While SDSU have more than two graduating seniors, Poole and Ruffin stand the best chance of being drafted and possibly making an impact in the NFL.
Ezell Ruffin, wide receiver
It was sort of a head-scratcher when Ruffin (6-feet-1, 210 pounds) didn't participate in SDSU's pro day for what he cited as "personal reasons."
After Ruffin ran a sub-par 4.68 40-yard dash at the combine, the consensus was that he would need to improve on that come pro day.
However, he snubbed himself of that chance.
Although, he did hold an individual workout at SDSU on April 10, which the Green Bay Packers, Indianapolis Colts, Arizona Cardinals and New York Giants attended.
NFL.com gave Ruffin a 4.84 grade out of 10, which according to them, means that he should end up in an NFL training camp.
He excelled as a junior, when he led the team in catches (68) and receiving yards (1,136), while being an honorable mention all-MW selection.
Last season, however, he dealt with a broken collarbone and saw his numbers fall off.
What could make him an impact NFL player is his bigger frame, which he could use to excel in the blocking game.
Along with that, he has great hands and is solid tracking down the football.
Heading into the draft, it seems Ruffin may be on the outside looking in for getting drafted, but he should end up on a team as an undrafted free agent.
Terry Poole, offensive lineman
Out of the entire graduating class, Poole (6-feet-5, 310 pounds) has the best chance of getting his name called this weekend.
Unlike Ruffin, Poole impressed with his 40-yard dash at the combine with a time of 5.09, which was fifth best out of all offensive linemen.
He also did well in the broad jump, where he was tied for first out of all linemen with a 9-foot-5-inch leap.
NFL.com gave Poole a grade of 5.09, which puts him in the same category as Ruffin, meaning he should be in an NFL training camp.
What will be the biggest factor in where he might get drafted is how confident a team is that he can move to guard.
Poole played left tackle in his senior season with the Aztecs, but scouts think he projects better as a guard due to his heavy feet.
Mock drafts have Poole being selected between the fifth and seventh rounds, or possibly signing as an undrafted free agent.