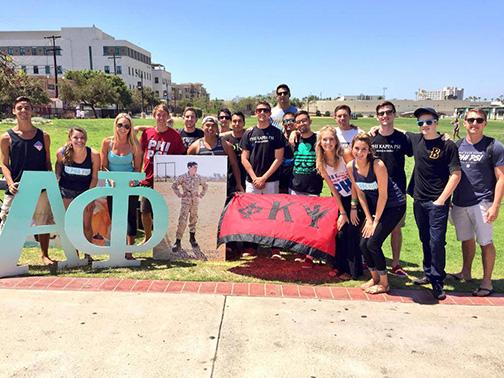 San Diego State's Phi Kappa Psi and Alpha Phi Greek organizations fundraised more than $10,000 to adopt a child's wish through the Make-A-Wish Foundation.
This money will fund a trip to Disney's Aulani Resort in Hawaii for 10-year-old Aliana, who has a severe developmental condition.
When she was a baby, Aliana was diagnosed with Costello syndrome, a rare genetic occurrence that affects multiple organs and increases the chance of tumor development, according to the National Organization for Rare Disorders.
Aliana keeps a positive attitude and loves spending time with her family, watching Disney movies and listening to Katy Perry, according to the foundation's website.
According to the The Make-A-Wish Foundation website, the organization "simply does what no medicine can – bringing precious moments of respite and joy to the children, their families and even entire communities."
Phi Kappa Psi's Philanthropy Chair, Sergio Soria, said photos of previous Make-A-Wish partnerships inspired Phi Kappa Psi to contribute for another year.
Since the wish cost was higher this year, the fraternity decided to partner with Alpha Phi in order to widen their fundraising potential.
"Our partnership with Alpha Phi began this spring semester when we thought it would be a good idea to pair up with a sorority," Soria said.
Phi Kappa Psi and Alpha Phi held three different fundraisers on campus. One invited students to throw water balloons at the fraternity and sorority members, another allowed student to play with puppies and the last was a bike auction.
Overall, these fundraisers accumulated over $1,500 for Aliana's wish, Soria said.
There was also a donations page on the Make-A-Wish website, which generated the most money.
The two organizations are expected to meet with Aliana and her family before June, Muñoz said.
This is not the first time Phi Kappa Psi has granted a wish.
"Phi Psi has been our supporter for a few years," Make-A-Wish San Diego's Community Partnerships Manager Stefanie Muñoz said. "They always commit to granting a wish."
The average wish costs about $8,000 and Phi Kappa Psi has committed to fundraising numerous times in the past, Muñoz said.
"The experience was amazing for us," Soria said. "It was great to see everyone's hard work and dedication affecting someone's life in such a positive way."