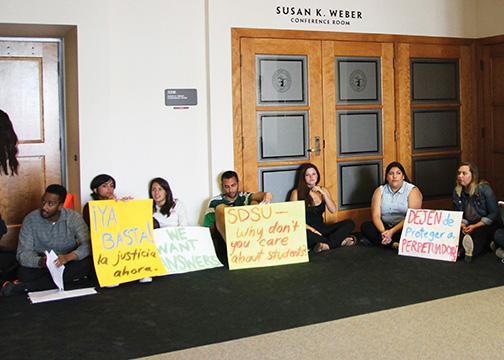 San Diego State professor Vincent Martin will appeal a decision from the university that says he sexually harassed a female student. Martin refuted the results of SDSU's investigation made public by  NBC 7 San Diego. This is an ongoing investigation.
He said he believes there are major inconsistencies with NBC's first investigative story.
"On the one hand, the headline is basically asking for my head on a platter assuming guilt," Martin said. "But hidden within the story is the fact that my attorney and I are challenging all allegations. Their entire story is just yellow journalism."
SDSU found Martin violated California State University Executive Order 1074, which pertains to sexual harassment.
In a letter to SDSU, Martin's attorney said there are no grounds for accusing Martin of sexual harassment.
"There seems to be a mission to indict Martin because he is engaging in conduct with a much younger student that the University thinks is 'unbecoming' or 'unprofessional,'" his attorney wrote. "Even if that is true, that does not aid in your quest to prove sexual harassment."
Martin's attorney challenged the investigator's findings, claiming Martin did not commit sexual harassment according to the definition in EO 1074.
"There were no 'sexual advances,'" the letter reads. "There were no 'requests for sexual favors.' There was no verbal or physical conduct that anyone could even remotely say related to conduct of a sexual nature."
In a separate letter, Martin's attorney cited three instances in which he claims SDSU violated EO 1074 during the investigation.
He accused the SDSU investigator of exceeding the time limits of the investigation established by EO 1074.
This is not the first time SDSU has been accused of mishandling an investigation.
Former SDSU student Francisco Sousa is currently taking legal action against the university for withholding information from his legal counsel about SDSU's investigation. Sousa's attorney also said SDSU exceeded the time allowed to conduct the investigation, a claim similar to the one Martin's attorney made.
The Daily Aztec reached out to a woman involved in filing the complaint against Martin but she didn't return our request for comment by the time of publication.
Students organized a silent protest on Tuesday, May 5 at Martin's office. Their goal was to urge SDSU to take further disciplinary measures against him.
Nassim Moallem, president of the Andrea O'Donnell Womyn's Association, organized the demonstration.
"We want him to be suspended pending investigations and terminated," Moallem said. "It is not enough to give simple reprimands or a 'slap-on-the-wrist' in situations like this."
SDSU responded to our request for information with a statement that said the university does not comment on specific sexual harassment complaints.
"While we appreciate that the campus community has significant interest when allegations of sexual harassment are made, it is also important that the process for adjudicating claims be a fair one and that all facts be heard," said Beth Chee, SDSU's media relations manager. "Any person accused also has rights, which include privacy in connection with personnel matters. They also have rights, under either collective bargaining agreements or by law, to respond to any allegations, which could include appealing any disciplinary action."
Chee said SDSU is committed to protecting the rights of all involved.
The Daily Aztec is continuing its investigations into this developing story. Check back with The Daily Aztec in the fall semester as we continue our investigations. 
Editor's Note: This story has been updated to clarify the specific NBC story discussed.