SDSU basketball down valuable shooter with Matt Shrigley injury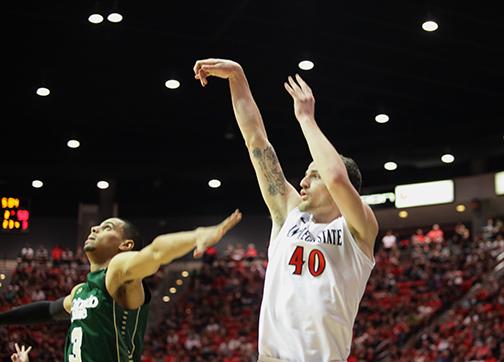 For San Diego State redshirt-junior Matt Shrigley, his 2015-16 season may be over before it even started.
Shrigley tore the anterior cruciate ligament in his left knee late July playing a pickup game at a local fitness center.
He had reconstructive surgery on July 28 and his father Richard claims he is targeting a February return, according to a report from the San Diego Union-Tribune.
That's about a month earlier than the typical recovery time for an ACL injury, which can take eight months or longer.
Shrigley's father is confident he can make an earlier return because there is no meniscus or cartilage damage to his son's knee.
This will be the second straight season Shrigley starts out injured. Last year he broke his elbow in an exhibition against Point Loma Nazarene and missed the team's first six games.
According to Ryan Fagan of Sporting News, the injury to Shrigley — one of the team's better 3-point shooters — is a big loss to a team that struggled to shoot last season even with him in the lineup. The Aztecs still ranked No. 275 out of 351 Division I schools in 3-point percentage.
"Tough blow for the kid. Team, too." Fagan said. "Not like they have a plethora of proven 3-point shooters. Hope he gets a (medical) waiver."
The waiver that Fagan was referring to is a medical waiver granted by the NCAA that gives athletes another year of eligibility.
However, it may be tough for Shrigley to receive a waiver because he was redshirted his freshman season.
His 33-percent clip from 3-point range was second on the team to sophomore Malik Pope's 41 percent.
Even with the loss of Shrigley, Geoff Grammer, the University of New Mexico's beat writer for the Albuquerque Journal, said the Aztecs should be fine.
"They'll still be my preseason No. 1, but it's a pretty big blow," Grammer said. "I think the top tier in the (Mountain West) is SDSU, Boise State and Utah State."
While streaky, Shrigley showed how dangerous he could be when he went 4-5 on 3s in the team's NCAA Tournament against St. John's.
Along with the offense, Shrigley provided solid defense on the wing, using his lanky frame and high energy to stifle opposing shooters.
According to the Union-Tribune report, Shrigley was expected to battle sophomore guard Trey Kell for the starting shooting guard spot.
Kell started 15 games last season, most coming earlier in the year after he impressed at the Maui Invitational in November.
He came into SDSU regarded as one of the better freshman shooting guards in the nation, but was forced to play point guard and struggled to a 22.1 3-point percentage.
Behind Kell it's thin at guard for the Aztecs.
Point guard Kevin Zabo transferred out of the program in the offseason and Aqeel Quinn, JJ O'Brien and Dwayne Polee II all graduated.
SDSU will now need to rely heavily on one of their incoming players, freshman point guard Jeremy Hemsley.
Hemsley was named the Los Angeles Times Boy's Basketball Player of the Year, and is expected to provide offense as a true point guard, something the team hasn't had since Xavier Thames graduated in 2014.
Junior Dakarai Allen is another player who could receive minutes at shooting guard, although he is known more for his defensive prowess than his shooting ability.
He attempted just 73 field goals last season, 83 less than Shrigley.