#AztecFB Camp Report: Mixed reviews of hurry-up offense, Rodrigues out with hamstring injury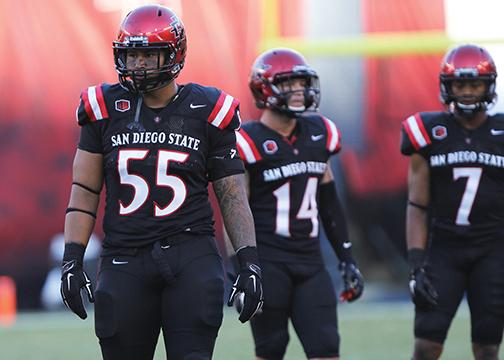 Summer football practices are usually characterized by one thing: getting ready for the regular season.
For a lot of teams, that means two-a-days, workouts and intense practices in the relentless heat.
It was 97 degrees at Friday's football practice for San Diego State.
Any thoughts that the coaches would make practice a little easier than usual were immediately dispelled when the team started running the hurry-up offense.
"I thought the first offense looked really good," head coach Rocky Long said.
What about the second offense?
"No."
But Long wasn't looking at specifically which offense was performing well. He said he's trying to get the defense prepared to face a hurry-up or no-huddle offense, which "six or seven offenses" use.
It's not as if SDSU's practices are ever a business-casual affair. They're always run at a high tempo.
Whether the Aztecs will be ready for University of San Diego on Sept. 5 is just another question among a long queue waiting to be answered.
SDSU secondary almost too smart for its own good
Continuity and stability are usually good things. That's why many people and media outlets write about SDSU's secondary, which returns all five of last year's starters and is poised for another good season.
The defense plays a different style, a 3-3-5 with a lot of coverage disguises, zone plays and blitz plays to confuse opposing offenses.
The difference with the safeties, named the Aztec and the Warriors, between the first and last game last year was noticeable.
"The first two and a half games, they were very shaky," Long said. "They're all veterans, in fact I'm upset sometimes in practice because they know the system so well they get kind of lazy."
Sophomore Trey Lomax spoke to the complexity of the defense and admitted it's a challenge to know the defense inside and out, but that the other safeties and defensive backs do.
"(Damontae Kazee) and J.J. (Whittaker) are both, I think, two of the best cornerbacks in the country," Lomax said. "Easily."
"I see them practice every day, I see their work ethic, I don't think they're getting as much attention nationally as they should," he said.
Although high-powered offenses await on the Aztecs' schedule this year, Lomax said he's focused on Sept. 5 against USD.
Injury report
Junior quarterback Jake Rodrigues faces an unknown spell on the sidelines with a Grade 2 hamstring strain that he suffered in Thursday's practice.
Sophomore tight end Darryl Richardson has a sprained left ankle and didn't practice Friday.
Sophomore running back Marcus Stamps doesn't have a boot on his right foot anymore after suffering a sprained right foot.
Sophomore defensive lineman Jordan Watson broke a bone in his right hand and will wear a club cast for up to five weeks.
Sophomore linebacker Jay Henderson spent some time conditioning and away from practice for an unknown reason.
Whittaker was also held out of the latter portion of practice after making several big plays during the earlier scrimmages. Whittaker wasn't injured, but Long stressed Whittaker's injury history (three knee surgeries) as a reason to rest him.
"We're very careful with how many reps he gets," Long said.
#Quotable
SDSU's lightning-speed practices are aided by a scoreboard with a buzzer that sounds periodically.
One of the football practice assistants after the buzzer sounded for an unusually long time:
"You ever get that feeling it's just not going to stop?"