#AztecFB camp report: Position battles could be decided at Fan Fest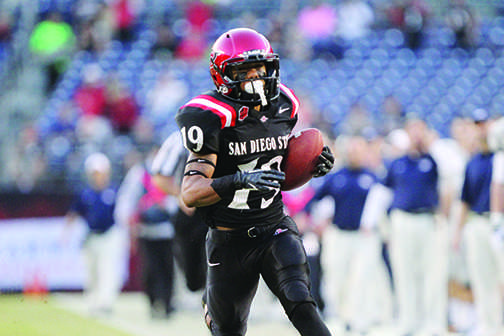 The players were dressed, the coaches were pumped, but San Diego State's football practice Thursday was nothing more than a glorified dress rehearsal for the open scrimmage at Saturday's Fan Fest at Qualcomm Stadium.
It was clear head coach Rocky Long and his staff did not want to risk any injuries heading into Saturday, with only a portion of the practice being a "thud" session. The rest of the cool morning practice consisted of 7-on-7 passing drills and individual unit walkthroughs.
Yet, even with limited snaps of a half-speed 11-on-11 scrimmage, the defense still proved its superiority over the mistake-prone offense, with the lone exception being star junior running back Donnel Pumphrey, who already looks to be in regular-season form, albeit with defenders who know he's off-limits.
The other players on offense, first team or not, were clearly struggling as they have all fall camp. The quarterbacks were throwing errant passes, the offensive line could not maintain a clean pocket and the wide receivers could not force any separation from the defensive backs.
The performance by the offense in practice was not too much of a concern for Long, as he was looking to prepare his team for Saturday.
"We did half speed," Long said. "We did half-thud work and we did half walkthrough. We tried to freshen them up for the scrimmage on Saturday."
Position battles to watch on Saturday
It's clear no starting spot is set in stone on the offensive side of the ball, outside of Pumphrey and the rest of the running-back corps, which sets up nicely for those in attendance on Saturday to watch intriguing position battles.
The most pressing battle to watch is at the quarterback position between graduate transfer Maxwell Smith and redshirt-freshman Christian Chapman.
Smith and Chapman have rotated in and out with the first-team offense throughout camp and both will get an equal opportunity to play in the scrimmage.
"They will mix and match," Long said. "They will both take turns with the first offensive line and with the second offensive line."
Although five players have received most of the first-team reps along the offensive line, no one is inked into a position.
"They are still competing," offensive line coach Mike Schmidt said. "Pretty much the final test will be this Saturday. No starting jobs have been given out."
Injury update
Due to injuries sustained during camp or preventive measures taken by the coaching staff, a handful of players will not take part in the open scrimmage.
Sophomore fullback Nick Bawden, redshirt-sophomore running back Marcus Stamps and senior defensive tackle Christian Heyward are not expected to participate due to injury. Pumphrey is sitting out for precaution.
Defensively, senior cornerback J.J. Whittaker, senior linebacker Jake Fely and junior linebacker Calvin Munson will be limited. Long said senior running back Chase Price is the only offensive player that will be limited.
Quotable
Schmidt on how he views Saturday's scrimmage:
"It's the last chance for romance."