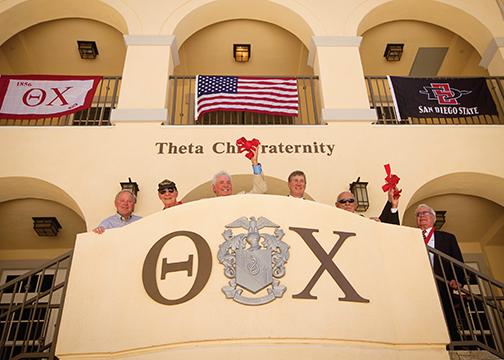 San Diego State's Theta Chi fraternity held a ribbon-cutting ceremony this August to celebrate the opening of their new $4 million mansion.
More than 225 people attended the ceremony, and speakers included San Diego County Supervisor Greg Cox, Vice-President for Student Affairs Eric Rivera, as well as one of the first Theta Chi SDSU chapter founding members from 1947. Richard Elder, president of the National Theta Chi Fraternity, and many alumni and current members of the chapter also attended.
The new house includes more than 20 bedrooms, five public restrooms, an elevator and an outdoor patio. The house is filled with memorabilia, such as composites and plaques, all with significant meaning to the chapter. Forty-one Theta Chi members live in the house, including members of the executive board who get their own single bedroom on the top floor.
Gene Lamke, the faculty adviser to Theta Chi, said the new house is a way to encourage leadership and involvement amongst the members of the house.
"This house exemplifies the 'residence for leadership' design that inspires young men in this chapter to strive for leadership positions because they are rewarded with single rooms at the top floor of the house," Lamke said. "The more these young men contribute to the success of the house, it is rewarded with better residential living."
Eric Turner, a civil engineer senior and member of Theta Chi, said the construction began after the university bought their old house for roughly a million dollars. SDSU then gifted them new land where the current house stands.
"Our original house was actually where Calpulli is, so the school purchased that land from us a long time ago," Turner said. "This project has been in the works for a very long time."
When asked if the new house would help attract new members to the fraternity, Keegan Kreutzer, a business-marketing sophomore and social chair of Theta Chi, said although the new house is definitely a positive, they're trying to look for potential new members who are not just in it for the house.
"We want kids who are well-rounded and can keep up our founding morals," Kreutzer said. "It may be tricky this first semester but we are really excited."
Turner added he's looking for potential new members who are genuine.
"We potentially will only be accepting guys who are already involved on campus," Turner said. "With such a big group of guys, we can have higher standards."