Halftime update: SDSU football leads USD 20-0
The San Diego State Aztecs lead the University of San Diego Toreros 20-0 at halftime at Qualcomm Stadium.
SDSU's defense quickly stole the show as junior linebacker Calvin Munson picked off Toreros redshirt-senior quarterback Trey Wheeler for a 19-yard touchdown on the second play of the game to put SDSU up 7-0.
USD's offense would be plagued by another turnover later in the first, this one on a trick play that was picked off by junior cornerback Damontae Kazee at the Aztecs' 9-yard line.
After a three-and-out and an interception of its own, SDSU's offense finally came to life after Kazee's interception, with offensive coordinator Jeff Horton leaning on his team's strength: the ground game.
The rushing game carried the offense to a 12-play, 98-yard drive that was spearheaded by senior Chase Price and capped off by junior Donnel Pumphrey's 5-yard touchdown scamper.
Not to be outdone, the SDSU defense would kick it up a notch in the second quarter and shut down any hope for USD to even gain an ounce of momentum. The Aztecs only allowed 25 yards and forced four turnovers.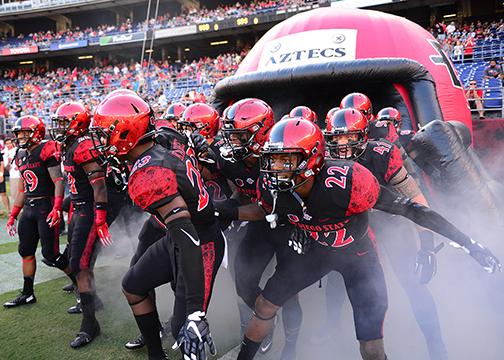 Kazee would again be the recipient of a USD error and came down with his second interception of the game, which also ties him for the most receptions from a Torero quarterback. Senior linebacker Jake Fely would force the fourth turnover of the half, a fumble with Munson picking it up.
The only scores for the SDSU offense in the second quarter were by the leg of junior kicker Donny Hageman: a 33-yard and a 36-yard field goal.
The USD offense's longest drive in the first half was a meager five-play, 22-yard drive that ended in a broken pass by junior middle linebacker Randy Ricks.