SDSU's defensive prowess won't be enough against UC Berkeley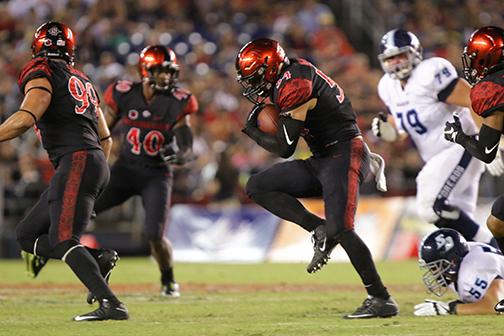 Two plays.
That's all it took on Saturday for San Diego State's defense to set off fireworks of its own on the night of the fan-favorite KGB Sky Show.
After University of San Diego junior running back Jonah Hodges lost a yard on a carry, SDSU junior linebacker Calvin Munson intercepted an open-field pass and took it 19 yards for a touchdown, giving the SDSU student section an early reason to celebrate.
The Aztec defense and special teams dominated USD and carried a lackluster offense to victory against a Football Championship Subdivision school.
But when SDSU begins its Football Bowl Subdivision schedule next week against UC Berkeley, it will need serious improvements in its offense.
From the moment the game kicked off, SDSU's defense looked all the bit as menacing and as anyone could have dreamed.
The Aztecs must have really wanted to live up to their new uniforms, because they came out like Aztec warriors and until late in the third quarter, USD couldn't put together a threatening drive.
With the help of some personal fouls by the Aztec defense, USD made it to the red zone and kicked a 23-yard field goal to finally get on the board in the third quarter.
But even on that drive, SDSU's defense stepped up and made a goal-line stand.
USD attempted three straight rushes from inside the 5-yard line, and each time was shut down by SDSU.
Junior cornerback Damonate Kazee, in particular, had a night to remember.
Kazee had three interceptions, locking up the USD receivers all night long.
It was only the third time in Aztec history that someone recorded three picks, and the first time since 1981.
Head coach Rocky Long made it clear his team was not overlooking USD's offense, even against his unorthodox 3-3-5 defense.
"They will be as prepared for us as any offense we play all year because of their past experience," Long said Tuesday.
If that was the case, then that made the defensive performance even more impressive.
In total, SDSU's defense forced six turnovers, including two interceptions returned for touchdowns by Munson.
The special teams unit was equally as impressive for the Aztecs.
Sophomore running back Rashaad Penny returned the only USD kickoff for a touchdown.
Senior kicker Donny Hageman, the Aztecs' Mr. Reliable, kicked three field goals.
Hageman's leg, alone, scored more than USD's offense.
Senior quarterback Maxwell Smith didn't look the part of a Division I caliber starter, going 9-21 for 100 yards and one interception and leading the Aztecs to one touchdown, a 5-yard run by junior running back Donnel Pumphrey.
Even the always-explosive running game didn't ignite.
The dynamic duo of Pumphrey and senior running back Chase Price combined for only 125 yards and one touchdown. 
"The coaches had a great game plan. Everything that we saw we prepared for, and we're going to be much better," Smith said. "I promise you that."
Hopefully the offense can find inspiration from the postgame fireworks and light up Memorial Stadium in Berkeley next weekend.