Local coaches react to potential SDSU hoops probe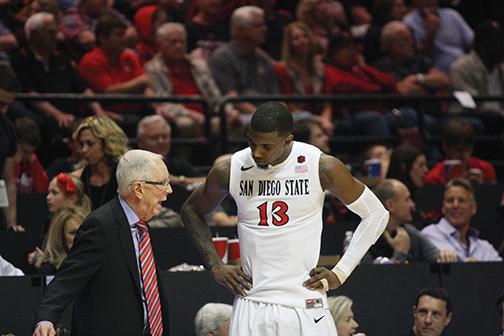 This isn't Dennis Kane's first rodeo.
The longtime boy's basketball head coach at Mission Bay High might not regularly churn out top-quality recruits like some schools, but he's sent 34 kids to Division I basketball programs in his long tenure.
This year he has 2016 point guard Justin Moore, who's getting recruited by several high-level programs such as Arizona State, Utah State, USC and San Diego State.
Even in the shady world of basketball recruiting, Kane was surprised at the allegations of improper benefits given from an SDSU assistant coach to a recruit.
"(There was) never even a hint that they had any kind of improprieties," Kane said.
CBS Sports broke the story last week, which cited anonymous sources that said SDSU was under NCAA investigation for potential impermissible benefits from a current assistant coach to a recruit.
Aztecs freshman point guard Jeremy Hemsley's high school coach Matt Dunn said as soon as word of the investigation broke, his phone lit up with calls and text messages.
He's not quite sold on the allegations.
"Not even close … not for one second would I think anything differently," he said.
Dunn coached Hemsley at Damien High in La Verne. Now Dunn's moved on to St. John Bosco in Bellflower.
Like Kane, Dunn's sent many players into the Division I basketball realm. He said SDSU coaches were "straight up" when they recruited Hemsley.
"If I didn't feel that way then I would tell our guys pretty point blank that I didn't think it was being done correctly," Dunn said.
One major facet of recruiting is the relationships college coaches build with high school coaches and their players. Dunn still talks to the SDSU coaches even though they aren't actively recruiting any of his players.
Assistant coach Dave Velasquez even dropped by St. John Bosco's practice last week.
Coaches are heavily involved in the recruiting process, although Dunn admits that some of the contact between recruits and college coaches happens away from the watchful eyes of the high school coaches.
Because of that, the high school coaches might not pick up potential shady activity from college coaches. Dunn said he'll always be cautious no matter what.
"If it's a new school that I didn't have any relationship with I would ask and advise my player to ask some pretty serious questions," Dunn said. "If it's someone that I have a relationship with I think obviously you're still going to ask the questions, but you're going to feel more comfortable with the answers."
What's the impact on the court and on the recruiting trail for SDSU?
A dark cloud hangs over SDSU. It doesn't do anything but sit there, waiting, lurking, casting doubts into the minds of 18-year-olds with hearts set on the NCAA tournament and maybe beyond.
As far as SDSU coaches are concerned, the report's release comes right as recruiting season comes down to the wire.
Recruits are making campus visits, coaches are making in-home visits and recruits are verbally committing to schools every day.
For SDSU, this recruiting year has the potential to catapult the team into a position to make a deep run in the NCAA tournament. But the investigation could drag on and factor into the decision making of some recruiting targets.
Targets like five-star power forward T.J. Leaf and four-star power forward Michael Cage Jr., the son of men's basketball legend Michael Cage and the younger brother of current Aztecs volleyball sophomore Alexis Cage, top the list of players that head coach Steve Fisher and his staff desire.
The probe also happens at a point in time where SDSU is poised for a breakthrough year and a deep run in the NCAA tournament. Four-star players, such as 2016 power forward Jalen McDaniels, are starting to become the norm for Fisher and company.
Who sent in the tip that made the NCAA move?
When the news broke, the athletic department initially said it hadn't been contacted by the NCAA, but later released a statement saying the NCAA had confirmed there was no "formal" investigation ongoing.
That was the latest update.
At this stage, the complete specifics of the probe are unknown and will likely remain unknown for some time.
The NCAA works in general secrecy and these types of preliminary investigations are conducted hundreds, sometimes thousands of times per year.
And the organization has set rules that prohibit disclosure of "current, pending or potential investigations."
SDSU's athletic department is also precluded from releasing any information on the matter. So for now, SDSU is in somewhat of a bind.
"It's like when somebody spreads a rumor about you, how do you react to that?" Kane said.
SDSU might not be reacting, but Joe Fan is.
The report sparked fans' outrage on social media and prompted conspiracy theorists to fly out of the woodwork. Many think a rival school tipped off the NCAA because that school was "jealous" of SDSU's recent success.
Many others weighed in, including former men's hoops player Dwayne Polee II.
They hate to see the underdog win. https://t.co/yGsbTgUMQw

— Dwayne Polee (@teampolee5) September 15, 2015
David Narain, father of freshman power forward Nolan Narain, tweeted his stance on the subject.
10 toes down in San Diego at State! pic.twitter.com/KEL71mRIEr — David Narain (@rooferman68) September 19, 2015
Kane also attributed the timing of the CBS report to the Aztecs' recent success.
"Any time you get put on a pedestal, people want to knock you off that pedestal," Kane said. "You've got to expect this kind of scrutiny, somebody's playing sour grapes."
While Kane does see the allegations as another school not wanting the Aztecs to succeed, he points out that the recruiting world is shady, complicated further by AAU tournaments and endorsement deals.
"In the meantime, it's also a test of whether you're doing things right," he said.
Both Kane and Dunn know that only time will tell whether the allegations have merit.