SDSU women's golf dominates Golfweek Conference Challenge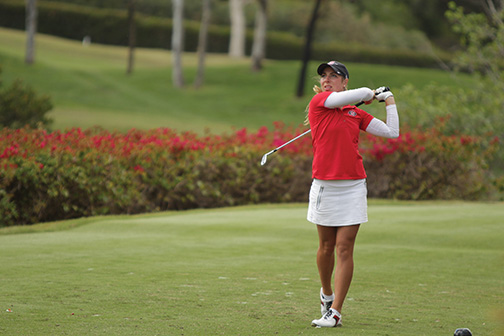 Wolcott, Colorado — about a two-hour drive west of Denver — turned out to be a friend to San Diego State's women's golf, which won its first team title of the season at the Red Sky Golf Club at the Golfweek Conference Challenge on Wednesday.
SDSU shot a final-round score of 278, finishing with a combined score of 858 (294-286-278).
Senior Emma Henrikson was the star of the show, winning the tournament with a score of 10 under par. She shot even-par 72 the first day, followed by consecutive 5-under rounds of 67 to close it out.
"Emma is playing great and competing at a professional level," head coach Leslie Spalding said.
The next highest SDSU finisher was junior Sirene Blair, who finished fourth overall at 2 over par with a total score of 218.
Henrikson was not the only Aztec who played exceptional, however. The whole team contributed to the win.
"Not surprisingly, every player was under par at some point," Spalding said. "Every player contributed to an under-par round."
Sophomore Haleigh Krause finished in a tie for eighth overall at 4 over par with a total score of 220. She shot 76 and 75 the first two rounds before putting together a 3-under-par 69 on the final day.
Sophomore Mila Chaves finished in a tie for 14th overall at 6 over par with a score of 222 (77-75-70).
Fellow sophomore Georgia Lacey finished in a tie for 17th overall at 7 over. She had a 3-under 69 sandwiched between rounds of 76 and 78
Junior Monica Vaughn from Arizona State (1 under), junior Kelly McGovern from Texas Christian University (1 under), redshirt-sophomore Savannah Knox from Long Beach State (3 over), senior Marissa Chow from Pepperdine University (3 over) and sophomore Annelie Sjoholm from Campbell University (3 over) rounded out the top five individual finishers.
The Aztecs finished second as a team to TCU in the first round of the tournament on Monday, but then stormed back and finished first in the second and final rounds. Spalding attributed the team's surge to their attacking style of play.
"We played very aggressive golf," Spalding said. "We owned our games. Today was a great day."
SDSU as a team finished at 6 under par in the tournament, well ahead of second-place TCU's 14-over score.
Arizona State (19 over), University of Denver (21 over) and Campbell (24 over) finished off the top five team standings.
Looking forward to the rest of the season, Spalding said what every sports fan wants to hear about their team's future: "It looks great."
Next up, SDSU will play in the Edean Ihlanfeldt Invitational in Sammamish, Washington, on October 6-7.