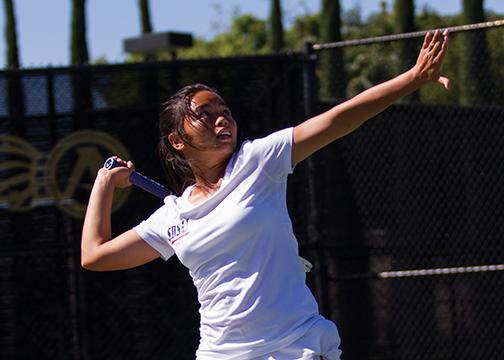 After a roller-coaster 2014-15 season that included three wins over top-25 teams, a five-match losing streak and a gruesome injury, the San Diego State women's tennis team starts the 2015-16 season this upcoming weekend with the SDSU Fall Classic I.
The tournament goes from Oct. 2-4 at the Aztec Tennis Center and includes Loyola Marymount University, UC Irvine, University of San Diego, Grand Canyon University and University of Denver.
This will be the first match atmosphere for the Aztecs since their loss to University of Wyoming back in April in the Mountain West tournament.
Head coach Peter Mattera has done his best this offseason to improve his team.
In the past two weeks the team has been in "full-blown" practice mode, doing strength and conditioning as much as possible.
"That's why we're in better shape," junior Kennedy Davis said. "Last year it was only three times a week, and now it's every single day and then we have practice on Saturdays."
The added workload is to build endurance for these tournaments and for the long-term when the regular season starts in January.
Especially with the heat in San Diego, Mattera is finding any way to have more advantages on the court.
"I think the payoff will occur probably on Sunday when everybody else is starting to get gassed, and hopefully we'll be the team out there playing with a little more energy," Mattera said.
While the regular season features dual-team matches, these first three tournaments involve a flight type of tournament. This means every player is individual and each player has a chance of playing another if they move on. So, theoretically two SDSU players could play each other in the final.
Although this is the first tournament of the season, Mattera believes it holds more importance for the team.
"It tends to make practice more meaningful after we're done with this event," Mattera said. "And the other really important thing about this event is that for those that aspire to become nationally ranked, on the (Intercollegiate Tennis Association), these results are all certainly countable results."
Essentially, the first tournaments focus on the individual as winning will only help the player's ranking in the ITA.
Not to mention, the team plays three teams they will face in the regular season in UC Irvine, USD and Loyola Marymount.
This season, the Aztecs have eight players on their roster with seven of them returning and one transfer.
With Krisitin Buth's departure, the Aztecs will look to senior Tami Nguyen as their No. 1 this season. Last year Nguyen finished with a 22-9 record winning eight out of her last 10 matches.
She will be the anchor of an experienced team for the Aztecs this season, a team that features no freshman and just two sophomores.
Davis will look to take over the No. 2 position, although she was sidelined this offseason due to a knee injury. The strength and conditioning has taken a little toll on her, but she says her knee is at full strength.
The wildcard will be sophomore Paola Diaz. Last season, Diaz showed off great potential finishing with a 16-13 record. She will most likely by the No. 3 option for the Aztecs this season, and her success will be key for a memorable season.
Buth's younger sister Jana has been recovering from a major ankle injury that happened in March, and is around 90 percent. She's now a sophomore and hopes to improve on her 9-14 record from last season.
Overall, the team wants to improve their record against nationally ranked teams. Last season the Aztecs finished 4-9 against ranked teams and ended the season with a 13-11 record.
With more effort in strength and conditioning and having the wealth of experience the team possesses, SDSU should be primed to make large strides as a program.
"I think it's a lot better than last year for sure," Davis said. "We're all on the same page with our goals and what we want."