SDSU women's golf looks to keep momentum going in Washington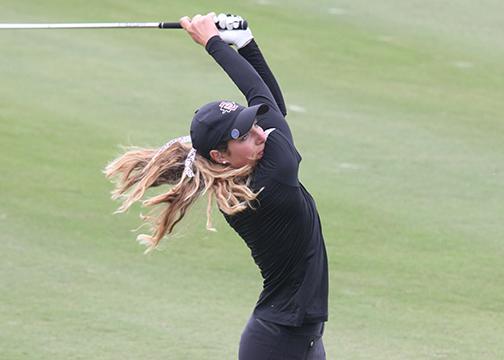 The San Diego State women's golf team looks to claim its second consecutive tournament title at the Edean Ihlanfeldt Invitational Oct. 6-7  at the Sahalee Country Club in Sammamish, Washington.
SDSU finished 11th in the same invitational in 2012.
In last year's invitational, host University of Washington took home the crown, shooting a 285 and 286 in rounds one and two, respectively, for a total score of 5 under par. Stanford University came in second with a score 14 over par and UC Davis finished third at 22 over par.
Emma Henrikson, a senior for the Aztecs who hails from Sweden, won Mountain West Women's Golfer of the Month for September. She hopes the confidence from winning the award will carry over to the invitational.
"It's always fun to get those awards," Henrikson said. "I feel confident about my game right now. I've been playing good the first two tournaments."
Henrikson hopes the team's victory in the Golfweek Conference Challenge in September, the Aztecs' first team tournament victory this season, will also provide confidence and momentum in Washington.
"It's the same team traveling (to the Edean Ihlanfeldt Invitational), and we all just get along really well," Henrikson said. "We still have that positive energy from the last win (in Colorado), and so I really hope and think that will carry over."
Head coach Leslie Spalding also believes the team's victory in Colorado will carry over momentum to Washington.
"I feel that win (in Colorado) was a confidence-builder for us," Spalding said. "I think that it was important for us to get that first victory under our belt and get momentum."
Henrikson is happy with her iron play right now and hopes it carries over into Washington.
"My irons have been really good," Henrikson said. "I have been hitting a lot more greens than I was. I've been pretty aggressive, and have been putting the ball closer which allows me to make more birdies."
She also hopes her aggressive style of play leads to even more success like she had in September.
"I would rather take some risks and get rewarded from it rather than just hitting it to the middle of the green," Henrikson said.
Spalding said Washington's weather conditions will factor into the team's strategy and approach to the tournament, but she said the team is prepared for damp and rainy conditions on the course.
"We train in all types of weather," Spalding said. "I feel that because we practice in all types of weather conditions that we will be prepared if it is indeed raining or the course is damp."
The weather for the two-day invitational looks good for the Northwest. On day one of the tournament on Tuesday, the high is 74 degrees and partly cloudy with no chance of rain. On day two on Wednesday, the projected high is 67 degrees and cloudy with a 20-percent chance of rain.
After being back home and in classes for a week, the road trip can't come soon enough.
"I think we're all itching to get out there again," Henrikson said.