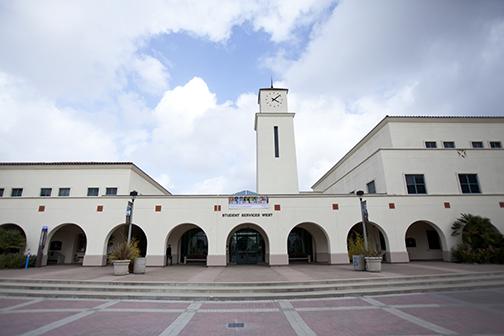 San Diego State announced it will add a wait list feature to class registration on the SDSU Web Portal next semester.
The goal is to prevent students from needing to crash — or sit in a class waiting for an open spot — during the first few weeks of classes.
SDSU's Office of the Registrar said the new feature is an automatic enrollment application that will take students from a wait list and add them to the class once spots become available.
If there aren't any available seats at the time of registration, students can add themselves to the course wait list.
While registering, students will be able to see a class that has open seats, as well as a class that has a wait list and the number of students on that list.
If a student wants to be enrolled in a specific class that is full in every section, they will be able to get on the list of more than one section of the same class. However, once they have been accepted to a section, they must remove themselves from the other sections' wait lists.
Students cannot be included in more than four wait lists at once and they can only be chosen from wait lists in four courses per semester.
Registration will remain open from a student's initial registration date until 10 days into the term.
If a class has open seats, the student can manually add the class without permission through the fifth day of class.
From the fifth day to the 10th, the student will be put on a wait list and it's up to the instructor to add more students into the class.
"The wait list is anonymous," registrar Rayanne Williams said. "There's no names, no RedID's whatsoever on the wait list, so faculty just decides how many people they can add, and they choose that number and add them."
She said this will eliminate any favoritism in allowing students to crash a class.
"We're taking all the guesswork out of it and we're helping the instructors make the best choices possible," Williams said. "Students on the wait list are going to be ranked depending on what the class is."
Ranking is determined by a student's number of units earned, major and minor, prerequisites and enrollment status in another section.
Students will be able to see their ranking, but it will change automatically depending on who is adding and dropping the wait list.
The whole process will be in real time, Williams said.
The biggest concern surrounding the feature is the regularity in which students check their emails.
"Students are auto-enrolled," Williams said. "There's no time period they can decide. It's automatic. So if a student is on a wait list and a seat in that class becomes available through the fifth day of classes, the student will be auto-enrolled and sent an email."
The announcement was first sent to all SDSU faculty and staff in an email from the Office of Registrar and there have been informational meetings about the new feature, including a meeting with Associated Students.
Williams said many people have reacted positively to the new feature, including students in A.S.
"I am thrilled about our university's shift to the wait list system," A.S. Vice President of University Affairs Andrea Byrd said. "This system has been in the works for about four years, so to see it finally come into fruition is exciting. This a true testament to what we as a university can accomplish through shared governance."
Students will soon receive an email about the new feature with an included tutorial. To publicize the announcement, the Office of Registrar will be putting posters and flyers up around campus, as well.
"We have to make sure every student is aware," Williams said. "It's imperative that students check their email in the next couple of months, and they read them and look at the tutorial and prepare themselves for spring registration."
There are trainings to learn more about this new feature at 2 p.m. on Oct. 16 and 21, at 11 a.m. on Oct. 29 and at 2 p.m. on Nov. 9 in the Enrollment Services Presentation Room at Student Services West 1560.