SDSU chooses Mark Martinez to carry the baton for Aztecs baseball with 5-year extension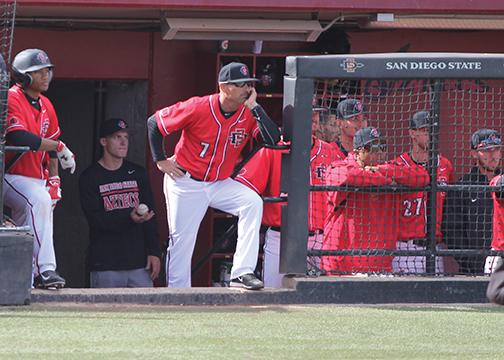 The day Aug. 20, 2014 was historic for the San Diego State baseball program.
It marked the day the school introduced long-time assistant coach Mark Martinez as the school's new head coach and marked the first time since the 2002 season that someone other than the late Tony Gwynn was head coach.
It didn't take the school long to realize the importance of continuity in the baseball program and locked Martinez up to a five-year contract extension this past July.
The man who Gwynn hired as an assistant coach back in 2005 was now given the responsibility to carry on what the two started all those years ago: making SDSU a national contender.
"I'm very lucky because I'm sitting here because of Tony," Martinez said. "Our job is to carry the baton forward, carry his ideals and values to help move our program forward and ultimately put our stamp on it as well. We're out there trying to make him proud every day."
Gwynn would have been very proud to see the team win its third consecutive Mountain West tournament in 2015 and come one win away from making the College World Series.
Anyone who watched the tournament on TV or in person could see the spectacle of players like junior right-hander Calvin Munson and redshirt-junior right-hander Cody Thompson wearing bubble gum buckets on their heads and cheering their team on.
One may construe that as a lack of focus, but that's inaccurate.
Martinez has helped build on a system where players can feel comfortable being themselves.
But that only comes after the work has been put in, Martinez said.
It's the kind of system that has led to two straight 40-win seasons (the first time since 1990-91) and the highest team GPA in program history in 2015.
"I'll tell you every single one of our players would run through a wall for coach Martinez," assistant coach Joe Oliveira said.
That sentiment doesn't end with the players, either.
"When coach Martinez took over he really could have hired anybody in the country," Oliveira said. "I owe him my life, he's done everything for me."
Oliveira also serves as the team's recruiting coordinator and his, along with Martinez's, job of recruiting becomes a lot easier with the stability in place.  They can go after freshmen and sophomores in high school with a long-term system in place.
"If it's not the first question asked by recruits, it's the second one: 'What's the coaching staff going to look like?'" Martinez said. "That gives (recruits) a little piece of mind that if they do commit to San Diego State, we'll be in place."
Martinez and his staff got a first-hand look at what continuity can do for a program when they were beaten 3-1 by eventual national champion University of Virginia in the NCAA Regionals last season.
Virginia's core coaching staff had been in place for 12 years going into last season.
"There's a lot of work to do," Martinez said. "It took Virginia 12 years to get where they wanted to be and we're going to try and get in a position to get this team competing nationally."
With the season opener against University of Oregon less than a month away, Martinez has his foot "fully on the gas pedal," looking to make good on the reward the school gave him.
"Now we've got to put up or shut up," he said. "We've got to continue to win baseball games and conference championships and have the opportunity to go to (the College World Series) for the administration and the program."