New digital magazine could help SDSU students with finances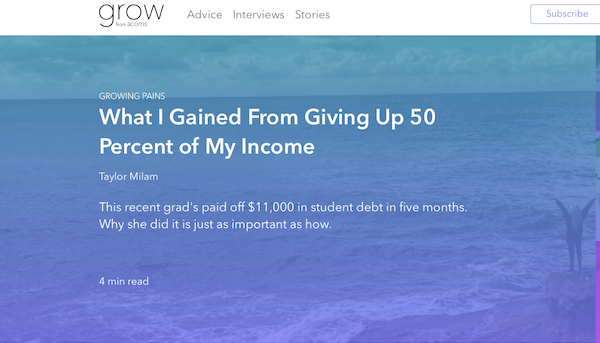 Grow is a new digital magazine platform launched by the founders of Acorns, a mobile investment application company, for students interested in financial planning and saving.
"Some of the biggest challenges facing millennials today stem from personal (financial) wellness," Taylor Dance, Acorn's college program manager, said. "We launched Grow to help educate and start important conversations for our generation regarding financial health."
Headlining articles on the Grow website include "How to Pay Your Student Loan Debt Off Faster" and "6 Ways You're Losing Money Without Realizing It."
"If students actually read through these articles, then there are many useful bits of information that could help them manage their finances," said Hisham Foad, professor and adviser in San Diego State's department of economics. "That said, I would caution to not make this site the only place people look at for financial advice."
Articles are primarily written by veteran freelancers with varying degrees of knowledge on financial planning based on descriptions provided in the "Meet the Team" section.
SDSU students had varying opinions on whether they would read from the Grow website.
"Budgeting money for food is the hardest thing financially," said Pat Romo, freshman international business major.  "I might possibly read it, but it's not affecting me that badly. I'm not in a desperate place that I really need to know how to budget."
Kendall Marsh, a sophomore nursing major, said she would read the magazine to learn more about managing her own finances.
"I would for sure read a digital magazine with tips on being more smart with money because I honestly know nothing about how to save money or being responsible," Marsh said. "I think there should be a class on campus with it even if you're not a business major."
Grow is also looking for students to contribute content to the "Stories" section of the site and is open to "first-person essays (or) stories about real-life experiences people have had with money and lessons learned," Dance said.
Acorns is a free investment application for students that works by rounding up everyday purchases to the nearest dollar from a personal bank account and investing the funds into a diversified portfolio.