SDSU women tennis lives for team-oriented spring season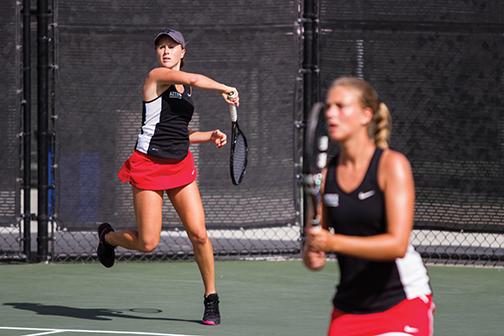 All professional sport seasons have a beginning and end date. There may be a week pause for an all-star break or for some an Olympic break, depending on the year.
For collegiate sports, sports seasons are determined typically by the actual season: Soccer is played in the fall, football is played in the fall and winter, basketball is played from the end of fall to the beginning of spring and so on.
However, collegiate tennis is one of the few sports that starts its season in the fall and ends (if the team's lucky) by mid-May. 
A few tournaments to determine individual rankings are played in the fall, followed by about a five-week winter break.
All collegiate teams not in season must suspend play over their school's winter break. Then within about a two-week span of returning, teams begin their seasons.
NCAA regulations limit the amount of days and hours spent on the court in the fall season. For example, in late November teams could only practice for eight hours a week with just two of those hours being tennis-related.
"Essentially, it was two full months before we started practicing again," head coach Peter Matera said.
While this peculiar schedule isn't ideal by any means, Matera can't help but be excited.
"Once we get to the spring, though, it is totally different (from the fall)," Matera said. "It's 24 dual matches (with) each (being) so important to our team's success and really the team's success is the big ticket item here. We live for the spring."
The schedule intensifies dramatically with multiple matches played each week.
"It's not like the fall is less serious, but in the spring you have to be on all the time," senior Tami Nguyen said.
Turning the switch "on" varies for each player, but they feel it helps more when it comes to team matches.
"When it's spring we are thinking as a team, not individually like Tami or (senior) Isabelle (Hoorn) or me" senior Dora Somoracz said. "How we train is different, too, in the spring. It's more focused on what's good for the team."
Instead of the focus being on individual ranks, the team now has to come together to capture success.
However, that brings on its own challenges.
"There's less room for error," Nguyen said. "You can make the mistakes in the fall, but not now."
In the fall if a player loses a match, it only affects the individual. But with four total wins needed to seal a team victory in the spring, the team becomes more dependent on each other.
Even with the added pressure, all of the players like playing the spring more than the fall.
"I like having my teammates next to me," junior Kennedy Davis said. "You feel better on the court."
On top of that, the players get more involved in the match off the court.
During the fall season, players might take a walk after a match or have a discussion with a coach about their individual match, but once spring starts every player has their eyes glued to the court.
"It's about having each other's back," Hoorn said. "Sometimes if you lose yourself and you see your teammates playing well, it can help you."
For some, a simple acknowledgment goes a long way.
"I remember one time I was struggling a bit last season, (Hoorn) would be watching my court and when she saw me struggling, she would always bring me a banana and a Gatorade," Nguyen said. "It just really made me feel like I had someone right there with me."
The team not only becomes closer, but coach Matera believes spring brings out the best in them.
"These girls have proven time and again that when they're kept busy, on task and have a lot on their plate, that's when they do their best," Matera said. "They do their best in the classroom and they do their best on the court." 
Davis is definitely someone to keep an eye on in 2016.
Davis is coming off a 20-plus win season last year and has improved her doubles game exponentially.
Before matches, she likes to listen to the latest in hip-hop to get her in the zone with Drake and Future's "Jumpman" as her current favorite song.
"She's a match player," Matera said. "When it's go time Kennedy is one you want on the court."