Confident Gunn Yang back with SDSU men's golf after PGA Tour stint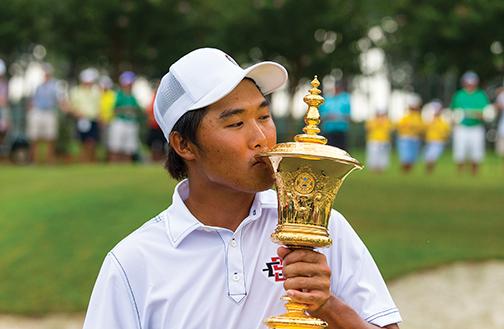 San Diego State sophomore men's golfer Gunn Yang shocked the golf world when he won the U.S. Amateur Championship back in August of 2014. He was the 776th ranked amateur coming into the tournament and became only the second South Korean to ever win the title
It was that victory that propelled him into a year-long golf journey in the professional ranks.  In his one year traveling on the PGA Tour, Yang had many eye-opening experiences. 
He made just one cut at the Colonial National Invitation Tournament at Colonial Country Club in Fort Worth, Texas. His 65th-place finish in that tournament was his best performance as a professional. However, Yang was still exposed to everything professional golf has to offer.
He played in the U.S. Open, British Open and even the Masters in Augusta, Georgia, which is most golfers' dream come true.  He also got to observe and learn first hand from the top professionals in the entire world and met golfing legends such as Arnold Palmer when he played in the Arnold Palmer Invitational.
That was a quantum leap from where he had come from just one season earlier.
Before his win in the U.S. Amateur Championship, Yang was struggling to find playing time on a deep Aztecs roster, and even had his 25-percent scholarship taken away at one point.
Today, Yang is back on the team on a full-ride scholarship and is ready to become a leader on a talented SDSU squad. 
"I want to be a good motivator on the team, I want everybody to bring out their hungry spirits and competitive instincts for what we truly want to achieve," he said.
And what they truly want to achieve is an NCAA Championship, which Yang thinks is well within reach.
"I am expecting our team to win the Mountain West Championship, make it to match-play at nationals and win an NCAA Championship to write another page of history at SDSU, just like how I did at the U.S. Amateur Championship," he said.
Individually, Yang expects to win at least two or three tournaments this spring.
He finished 53rd in the team's third-place finish at The Prestige at PGA West, which ended on Feb. 17.
Yang grew up in Pyeongchang, South Korea, and then moved to Australia with his parents when he was 12. Five years later he moved to San Diego to attend Torrey Pines High where he became an outstanding golfer.
He made his SDSU debut in 2012 as true freshman, posting a 75-stroke average in two tournaments. 
Yang has many different options to consider in regards to professional golf once he's done with school.
"After I graduate from (SDSU) I am going to start my professional career either on the European Tour or Web.com Tour. Hopefully I can receive opportunities on the PGA Tour," he said.
Even being as confident as he is, Yang realizes there are many things he still can work on that can take his game to the next level. 
"I still have lots of things to learn, but my weakness is chipping around the green and short pitches inside 50 yards," he said.
With the experience that Yang brings to the table, along with the other talented members of the team like senior Riccardo Michelini and junior Nahum Mendoza III, the Aztecs can definitely be one of the top contenders in the MW, and even the nation.
The team's next tournament will take place on Feb. 29 in Thousand Oaks at the Southwestern Jones Invitational.