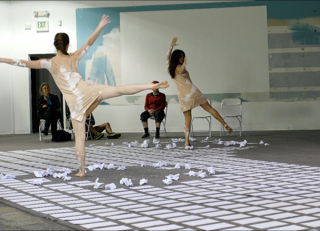 There is no denying that San Diego State has a talented performing arts program.
The program has inspired many students to challenge the meaning of performing, leading to the production of unique works of art and expression.
If. Dance Theater is a group of three dancers who want to change the way people perceive dancing and performing.
By utilizing the techniques of improv, the group wants to encourage individuals to think and step out of traditional stereotypes.
Chloe Freeman, Krista Nelson and Aubrhe Yruretagoyena are the three women who make up If. Dance Theater, a practice-focused dance studio. Yruretagoyena is currently a dance senior, while Freeman and Nelson are alumni who also graduated from the dance program. Freeman was Outstanding Dance Graduate last year, and Nelson holds the same title for the 2015-2016 academic year.
"The three of us began practicing spontaneous choreography and improvisation, but something more crafted than just following the flow," Nelson said.
Although the group originally started out with six to seven members, Freeman, Nelson and Yruretagoyena still hope to have the same impact while they are performing.
"We have never gotten together and said we want to make something about this," Yruretagoyena said.
The group wanted to create a compositional practice where they were responsible for themselves.
"We started a group that was larger than the three of us," Nelson said. "[A group] unsupervised by faculty, something that was different than the normal school week of dancing."
If. Dance Theater's practice is unique due to the fact that after a busy day of practice, the group will talk about it in order to bring in their personal research outside of the faculty-led research.
"We all show up at one specific time in the studio, we'll have music or don't, have talking or don't and we just start jamming," Yruretagoyena said. "If we were musicians we would all show up with our instruments and just play and whatever happens, happens."
Yruretagoyena said practice and rehearsal are two different things and although both are essential to the company's successfulness, practice involves evaluating the generation of material.
For If. Dance Theater, it involves finding out what the group is interested in doing at the moment, which enables them to tune in with each other and promote creativity.
Performance art is the group's main focus, and a typical week consists of collaborating, practicing and making work.
Nelson said that the group would most likely bring in someone who is not from within the dance field, maybe musicians or visual artists.
Some pieces of work that the group has put together include the new, "It's a little bit 'uh huh,'" that was performed at the San Diego annual Fringe Festival this summer and "slowly but surely, becoming slightly," that was performed oncampus.
If. Dance Theater performed "slowly but surely, becoming slightly" in front of Hepner Hall in order to "interrupt someone's day with art," Nelson said.
The three members said their work has values that challenge the status quo and shake up normal stereotypes with dance.
"There's something important to me about what we do," Nelson said. "All three of us come from a post-modern perspective. It's important to me what we're doing because we are taking an approach that makes space for not just the hetero-normative reputation of guy-girl dance."
The three members of If. Dance Theater said they were inspired by the dance department to start their own company. Nelson said that the faculty within the dance department encourages students to be in charge of their own dance education and dance artistry.
They want to pave the way so that by the end of each student's four-year career, they will have the tools to take over and perhaps start their own businesses.
This is exactly what If. Dance Theater has done.
Yruretagoyena also said the dance faculty have encouraged each individual to go beyond their comfort zones and to be their own teachers.
The group credits dance professors Leslie Seiters and Jess Humphrey for their growing success and inspiration. They said the two professors have pushed and challenged them to have their own voices and to be overall well-rounded human beings.
"We have found each other and have found something special with each other," Yruretagoyena said. "We are excited for the challenge of how do you continue to make dance with people who aren't in the room, how do you continue to share ideas and collaborate across borders and across states."
If. Dance Theater's unconventional and inspirational form of pop-up art lacks the traditional stage setting and opens up a new form of creativity.