Blog: The Daily Aztec wins multiple awards at national journalism convention
The Daily Aztec won a third place "Best of Show" award for its print newspaper and a fifth place "Best of Show" award for its website at the 2018 Associated Collegiate Press Midwinter Conference in Long Beach over the weekend.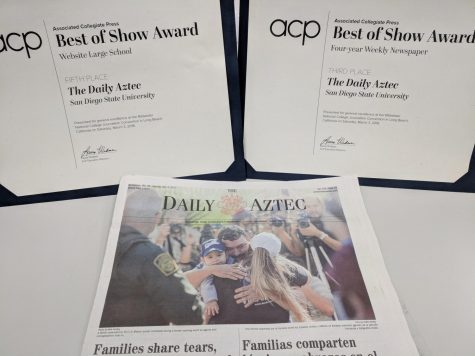 The conference, held over three days, attracted hundreds of students and advisors from universities and colleges across the country.
At the California College Media Association awards banquet, held in conjunction with the convention, Daily Aztec writers and photographers also won several individual awards, including first place awards for news series, arts and entertainment writing and feature photography.
News editor Will Fritz, assistant news editor Jasmine Bermudez and staff writer Bella Ross won first place for a series of news stories on the Aztec mascot controversy. Photo editor Kelly Smiley and senior staff writer Julianna Ress also received first place awards.
ACP 2018 Midwinter Conference Best of Show:

Four Year Weekly Newspaper
Third Place: The Daily Aztec
Website, Large School
Fifth Place: The Daily Aztec
 2018 CCMA College Media Contest
Best Newspaper Website
Second Place: The Daily Aztec
Best News Series
First Place: Will Fritz, Jasmine Bermudez and Bella Ross
Mascot controversy series
Best Arts and Entertainment Story
First Place: Julianna Ress
Revisiting my hometown through 'Lady Bird'
Best Feature Photo
First Place: Kelly Smiley
Best News Video
Second Place: Diana Guerrero, Carolina Lopez, Mirella Lopez
Campus prepares for 'Great Shake'
Best Headline Portfolio
Third Place: Cami Buckman
Best Sports Photo
Honorable Mention: Kelly Smiley
Best Infographic
Honorable Mention: Noah Callahan