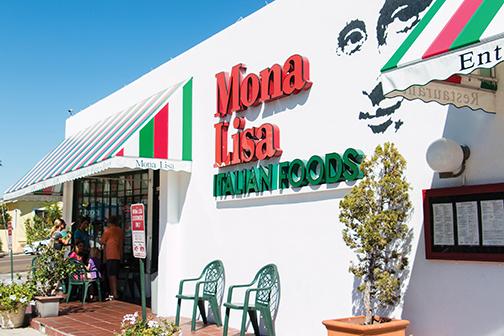 Dining in at Mona Lisa Italian Foods can make you feel like you are eating a home-cooked family meal in Italy. The space is warm and cozy, with candle lights, white tablecloths and family photos lining the walls.
Located on India Street in Little Italy, Mona Lisa is both a restaurant and a deli. The deli is fully stocked with authentic Italian ingredients from Italian sodas and meats to freshly made breads. This side of the location also contains a full-service deli counter which serves up delectable sandwiches made from the same ingredients sold in the store. Sandwiches hot and cold both cost around $7. The Caprese sandwich was full of delicious fresh ingredients including melted mozzarella, a fully flavored tomato, olive oil and balsamic vinegar.
The restaurant has a very welcoming ambiance. The family photographs and Italian waiters create a genuine Italian experience. Mona Lisa is known for their freshly made pasta and pizza. Most items are priced around $13, which is fair for both the portions and the taste. The menu includes a multitude of pizza options including various crust thickness and toppings.
As a New Yorker, my expectations for the pizza were high and surprisingly, it didn't disappoint. The homemade sauce was fantastic and nestled between warm, fresh dough and cheese. The pasta options are unlimited. Ordering off the menu provides delicious plates such as cheese ravioli, which was heavenly, served in a sauce that was so good it seemed a sin to leave some on the plate, lobster ravioli, original spaghetti and lasagna. Ordering Á La Carte is also an option, which allows the customer to create his or her own meal.
"It's all so fresh and so good, I mean this sauce tastes like my mom made it," Barbara Mathews, a diner at the restaurant, said.
Some times it can be hard to find a go-to Italian restaurant and authentic rare ingredients, but Mona Lisa is definitely the answer to both.