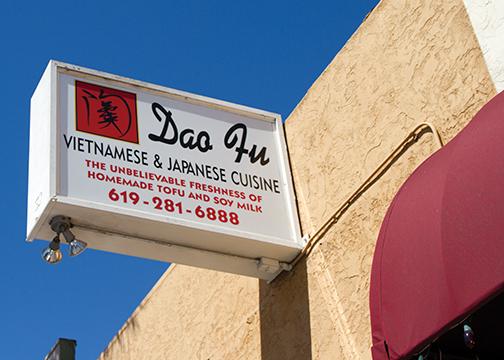 Across the street from Lestats coffee shop on Adams Avenue (a popular study destination for college students of all kinds) is a tiny restaurant named DaoFu. Upon entering the restaurant, the décor immediately creates an interesting feel. The walls are covered in the graffiti of previous patrons; birthday wishes, sketches, hash tags and dirty jokes. There are only a few tables, so the wait can be long, especially on weekends. Luckily, I arrived at 7:30 p.m. on a Tuesday, so I was seated immediately.
A complimentary salad of mixed greens, raspberry vinaigrette and some of DaoFu's house-made tofu was served as I perused the menu. Though the dressing was slightly overpowering, I was thoroughly impressed with the tofu, as well as the complimentary nature of the salad. The tofu at DaoFu is delicious. It's handmade in house, and is silky and flavorful- far from the bland, crumbly tofu I was used to. The cuisine at DaoFu consists of a mix of Japanese and Vietnamese dishes. A variety of vegetarian options are offered, as well as plenty of dishes containing chicken, beef and pork. Everything is reasonably priced, with the main dishes running around $10 on average.
After looking over the menu, I decided on the Tofu Rice Pot. They serve beer and wine, so I also got a small sake and a beer and found both to my liking. The dish was mix of white rice, tofu, mock chicken, and tons of veggies including zucchini, snow peas, carrots, mushrooms and broccoli; all mixed with ginger and garlic in a hot stone pot. It was nothing crazy, but I thought it was fantastic. The ginger and garlic tasted great with the medley of stir-fried veggies, and, let me reiterate, the tofu is really, really good. They do not use MSG here, and all of the ingredients tasted fresh and delicious. But be warned: the food here is spicy. The spiciness of each dish is rated on a 1 to 10 scale. As the waitress told me, a three is considered medium. I love spicy food, so I ordered a five, and I will admit, it was pretty darn hot. However, I still managed to devour a good portion of my food.
Following the meal, they serve you complimentary ice cream. I'm not kidding. It's awesome. The ice cream was a small scoop of raspberry sorbet with fresh fruit on a plate drizzled with syrup. It killed the lingering burning on my lips from the spiciness of the food and totally refreshed me.
I left DaoFu feeling full, happy and with a nice box of leftovers that I thoroughly enjoyed about two hours later.