Restaurant Guide: Fat sandwiches offered at Fat Sal's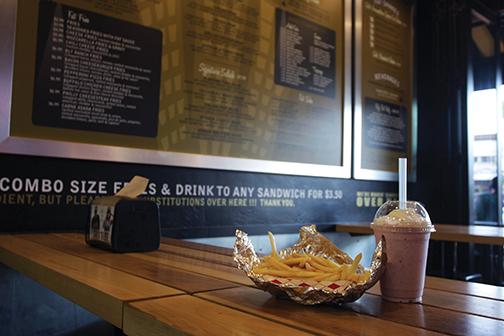 by Nick Knott, Entertainment Editor
October 9, 2014
Fat Sal's has always pegged me as the late-night go-to sandwich spot in Pacific Beach, due to the fact there's an abundance of bars in the area. I figured it was pure drunchie food. Let me tell you, that was a rookie mistake. Fat Sal's is a fantastic sandwich shop serving up savory sandwiches that will raise your cholesterol a few points.
Located at 956 Garnet Ave, Fat Sal's is just blocks from the beach. The restaurant can be easily missed if you're driving by due to its small hole-in-the-wall presence. However, if you don't see it you'll definitely be able to find it if you follow the hip-hop music. Fat Sal's keeps the classic rap tunes cranked up which is exactly what drew me in.
The menu is plastered up on the wall in its main dining area. Upon first look, it's overwhelming. The menu features the basic run-of-the-mill sandwiches, burgers, wraps and hot dogs. Fat Sal's also has its fair share of sides including milkshakes, potato chips, cole slaw and other deep-fried wonders. It takes just as much of a unique approach to its fries as it does to its sandwiches, making creations such as pepperoni pizza fries, cheesesteak fries, BLT ranch fries and a few others.
But what makes Fat Sal's stand apart is its "Fat Sandwich" menu, which consists of crazily concocted sandwiches served on an extra-wide hero bun.
The "Fat Sandwich" menu features sandwiches jam packed with ingredients and toppings, most of which include chicken fingers and mozzarella sticks right on the sandwich. I opted for the "Fat Jerry" combo. It's a Philly Cheesteak on steroids, containing mozzarella sticks, chicken fingers, French fries, fried eggs, bacon and the basic cheesesteak beef.
After unraveling the perfectly folded white paper that wrapped my heart attack on a bun, I found myself surprised at how little the sandwich appeared. It looked like it could easily be conquered in a single sitting. So I clasped the sandwich in hand and dug in.
The combination of all the random ingredients worked magic on my taste buds. Somehow the wide range of foods stuffed into a handheld meal worked really well together bouncing around from salty to sweet flavors. The sandwich was so jam-packed that I could barely finish half of it.
The "Fat Jerry" combo meal, which comes with fries and a drink, runs at approximately $14. Which is pretty pricey for a sandwich and some deep fried potatoes. However, one is more than likely to get two meals out of the sandwich, especially if the sandwich is from the "Fat Sandwich" side of the menu. The cost ends up not really being that bad.
Overall Fat Sal's is a must-eat spot in Pacific Beach. They have a big menu with big flavor and it's definitely worth adding the couple points to your cholesterol level.