Art and film worship at The Church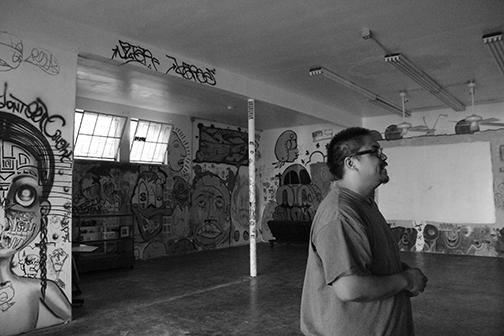 Sitting south of the largest film industry in the world, San Diego has upheld its artistic versatility through the people who found the healing powers of art and its creative expression. Mark Escobar, along with Frank Luna, is one of the founders of Barrio Logan's newly established digital arts center, The Church. He also has been working on a full-length documentary film based on the life of Don Eulert, a shaman, professor and a friend of the people.
Since August, The Church has opened its doors for kids and adults across San Diego to provide them with a peaceful environment dedicated to learning, teaching and enjoying the process of creation — a place where art is a religion. The newly installed music studio, record store and brightly painted murals have attracted many of San Diego's artists and students willing to learn and have fun.
"If it doesn't make us laugh, we don't do it," Escobar said. He's one of The Church's supporting members, encouraging artistic expression through Internet live broadcasting. He's also the executive producer of a currently untitled production following Don Eulert, professor of integrative psychology at Alliant International University's San Diego campus.
Eulert is a visionary leader encouraging the use of nature-based healing methods, including traditional rituals and a natural approach to psychology. He learned and accepted a way of sovereign living among nature.
The documentary takes us into a day in Eulert's life. Working at the Center of Integrative Psychology, where he keeps students aware of better practices. The center allows student to explore both the clinical and formless aspects of psychology. Alongside his teaching career, he mentors his students and community by the simple act of living. As the caretaker of 55 acres of land in Julian, he puts his philosophies into play by organizing community events such as sweat lodges for the purification of one's disconnections and the junction of like minds.
Like The Church, Euler's frog farm is used as a community refuge and healing center for anyone trying to find their way back onto their life path. Eulert has devoted his life to the healing of others through integrative psychology, multicultural wisdom traditions and nature-based therapies. His philosophies and lifestyle coincide with the idea of grounding oneself back to earth.
With so much support from the San Diego community, the documentary is expected to be finished and featured by February 2015. Check out The Church on Facebook and keep an eye out for free events centered on reconnection, creativity and growth.