Art walk shines in North Park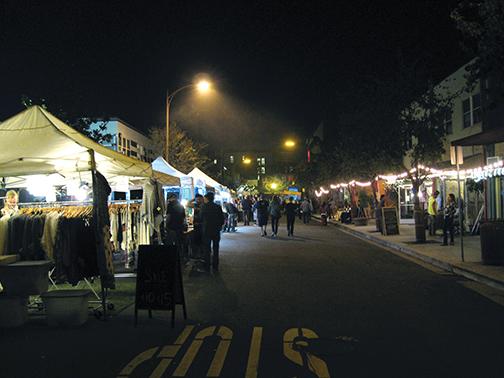 Going to San Diego State gives students an opportunity not only to further their education at our beautiful campus but to indulge in a countless number of activities offered by the surrounding communities. One such event is the Ray at Night art walk in North Park; a quaint neighborhood that has become an epicenter for the city's young, edgy, and hip in the past few years.
Ray at Night is San Diego's largest and longest-running monthly art walk, which recently celebrated its 13th anniversary this past September. Happening the second Saturday of every month, the event is the perfect chance for students to obtain their much needed culture and art fix.
This past Saturday, Nov. 8, Ray at Night showcased a wide array of art from various local and nationally known artists. Oil paintings, handcrafted wire jewelry, clothing, pet photography and 3-D crayon art were just some of the interesting pieces displayed at more than 15 business venues, galleries and booths.
Chula Vista-based artist Jesus Pinto was among the artists selling their work at Ray at Night. He has a booth at the event every month that features his own photography and some famous prints as acrylic photo transfers on wood.
Pinto has been working professionally as an artist for about a year. He has also begun to sell his work at Simply Local. Located right around the corner from Ray at Night, the University Avenue store is a newly opened merchant marketplace that features over 40 locally owned businesses under one roof and showcases the talents of many local artists.
Ray at Night's laid-back and pleasant ambiance was enhanced by live street performances that echoed in the background while attendees perused all that the event had to offer. A quick snack or dinner was also available at three different food trucks throughout the night.
Spanning the block of Ray Street in the North Park art district, Ray at Night is an event with three of the most crucial soul-healing elements; food, music, and art. Be sure to check out the art walk next month at 6 to 10 p.m. on Dec. 13 and continue to support other local business and restaurants in the North Park community.
If you're interested in participating in the Ray at Night event, applications for vendors and entertainment are available at Rayatnight.com
Also read: Symphony strikes a new chord