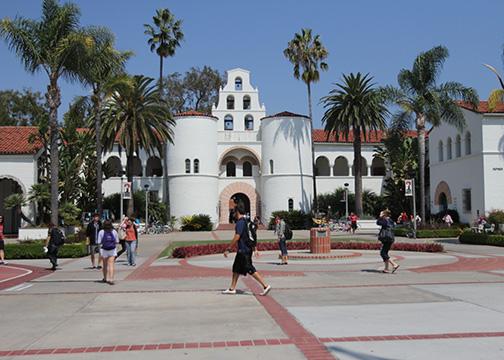 The San Diego State Office of Alumni Engagement recently launched the Aztec Proud program, a program that allows students to donate to programs and initiatives of their choice at SDSU.
Students can donate a minimum of $10 to various colleges, programs, initiatives and groups of their choice on SDSU's campus. In return, they receive an Aztec Proud t-shirt and invitations to networking and career development events throughout the year.
The program officially launched on Nov. 17, and received more than 80 student signups during the launch event in the Conrad Prebys Aztec Student Union, according to the Alumni Association's website.
Tammy Blackburn, director of Alumni Engagement said students tell the organization where they would like the funds to go towards, whether it be deposited in their college, major or campus initiative such as Guardian Scholars or the Student Veterans Organization.
"The idea of student philanthropy came about because we need our students, alumni and friends to give back to SDSU," Blackburn said. "In addition, we know students are philanthropic and want to give; if you give them a chance, they will."
Athletic training junior Katie Harris said she thought the program was beneficial to SDSU.
"Most students want to put their money towards something they really care about and now students have that opportunity to give to their money to their desired place," Harris said.
The initiative is important because it allows SDSU to continue developing innovative ideas, while continuing to support programs and research that receive only limited support from the state, Blackburn said.
"I think it's a good idea because there are a lot of programs, departments and scholarships on the SDSU campus that are underfunded and they go unnoticed because of that, and by donating to those programs and departments and scholarships, it can give them the opportunity to gain recognition and to thrive," political science sophomore Genesis Guevara said.
However, some students are skeptical about donating money to the school, after paying for tuition and other initiatives such as the Student Success Fee. Blackburn said the donation is a philanthropic gesture, not a mandatory charge.
"For example, if you look within the College of PSFA there are multiple projects," she said. "The debate team needs funds to send the team to the national competition. The College of Engineering, specifically the Mechatronics group, has a need to build a Robosub that will compete in the national competition."
Blackburn said she is thankful for students that donate to the areas of SDSU they would like to support.
"So many of them have thanked us for giving them the opportunity to donate and we are thrilled with their generous and strong SDSU spirit," she said.
The Campaign for SDSU, a fundraising effort put forth by the university, recently surpassed its goal of $500 million dollars in donations. The effort has been extended, with a new goal of $750 million dollars.