Tasty Tuesday: The Urbn-ization of pizza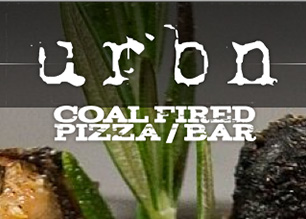 Urbn Pizza  serves up coal-fired pizzas, as well as salad and appetizers. It is located on University Ave. in North Park. The restaurant has a (surprise!) urban design. Big, open windows, exposed beams, and steel and brick accents give Urbn a warehouse feeling. There is a long bar to one side, serving craft beer, cocktails, and wine. A tip before coming in for some pizza — make a reservation. Most people do, so without one the wait is a little ridiculous.
I arrived on a Tuesday evening, so it was a little quieter. The appetizers caught my eye first. There were cheese and meat boards, coal fired wings and more. However, as I am on a budget, I had to pass. There were options on the menu to design a unique pizza or choose from different types such as Mashed Potato, (B)urbn BBQ chicken and Fresh Clam. I am a boring vegetarian, so I got the coal fired Margherita pizza. I ordered the small pizza, but it was still a good size. I saw some of my fellow diners with the bigger size and it was pretty big, so going that route requires coming hungry or bringing friends.
The pizza was fantastic. It took about 20 minutes to arrive, but it was coal-fired so I expected it. It had a thinner, crispy crust and that deliciously smoky flavor. Everything was fresh and flavorful. The red sauce was simple but flavorful. The cheese was fresh mozzarella, and the basil and tomato were great accents for a simple pizza. My friend ordered the mashed potato pizza, which is a pizza covered in potatoes, bacon, mozzarella and Parmesan. He said it was fabulous, unique and totally worth it.
For diners who are 21 and up, the drink menu at Urbn is awesome as well. As I was driving, I stuck with water. They have tons of delicious sounding craft cocktails, and a nicely sized beer menu as well. My only complaint is about the drinks, however, because they were a little on the pricey side. The pizzas, however, were large and scrumptious, and definitely fairly priced considering the portions.
Overall, I had a nice experience at Urbn. I can imagine the place gets packed on weekends, so if I come back it will probably be on a weeknight. I really want to return on a day when I am not driving and can try some more of their interesting cocktails (Perhaps a Warsaw Mule? Or maybe a Sioux City Mai Tai? Yum.) I absolutely recommend this restaurant for anyone looking for unique, delicious pizzas and cocktails in North Park.