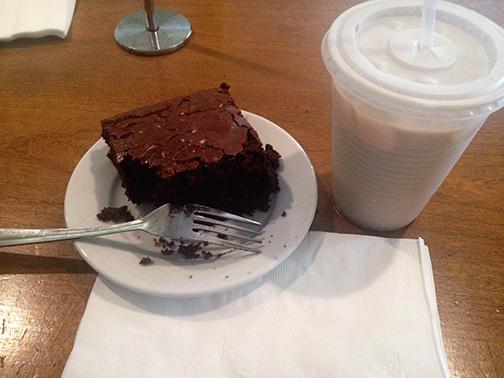 It's called The Living Room for a reason — this cafe has a cozy, homey atmosphere just like what the perfect living room should be. With bookshelves and eclectic art on the walls, The Living Room draws San Diego State students and community members alike looking for a quiet nook to study and work, as well as to refuel with coffee, treats and meals. The Living Room, located on El Cajon Boulevard, opens early for breakfast and stays open late for late-night study sessions. Its menu consists of breakfast, lunch and dinner items as well as a variety of coffee, teas and pastries. This cafe certainly offers something for every kind of craving and in most cases, serves as a good study break as students likely progress from coffee to dinner to more coffee.
The cafe is often crowded with students on laptops and half-empty mugs. There's a variety of seating, though the comfier ones go first. With ample outlets and strong WiFi, The Living Room is ideal to focus on finals and get off campus. Servers are not always quick to bus tables, so it's best for patrons to return their tableware upon leaving.
The Living Room serves hearty soups and sandwiches, notably the turkey club and tomato tortellini soup of the day. Additionally, its coffee specialties and tea varieties are worthwhile. Notably, the chai tea latte is the best I've ever had — and I've tried a lot of chai tea lattes. I also ordered a brownie to complement my caffeine addiction as I worked on a paper. Thick and decadent, this brownie was large enough to share with a friend.
Many patrons prefer its breakfast menu to its dinner menu, though with items ranging from eggs and toast to gyros or fried rice, there is something to please everyone at this cafe. Entrees are priced at an average of $8; a pumpkin spice latte is around $4 for a regular in a large mug, and all pastries are approximately $2.
The Living Room is a local hangout that thrives off its community. Because many customers become regulars, the staff is friendly and knowledgeable.
"I asked the cashier for a recommendation for something light and fruity, and she recommended the Norwegian Sunny Slopes tea," child and family development senior Alli Heer said. "I loved it. It was exactly what I wanted."
Hours after eating a lunch of a half-sandwich and soup, Heer ordered one of the many pastries offered under the glass countertop.
"I got a chocolate muffin," Heer said. "It definitely hit the spot. It's very filling and reasonably priced."
Perhaps the best part about The Living Room is its welcoming nature. The staff provides such an atmosphere that allows patrons to stay hours after their tea has gone cold. It's less of a restaurant, but more of the living room of your best friend or favorite aunt, a place you go to relax or focus.
 "It's nice to get off campus and get out of the library. I love the vibe of this place and all the food options," integrated marketing and communications senior Marissa Packin said.
 If you aren't already a regular at this coffeehouse as an Aztec, you're missing out on College Area's best study and snack spot.