Aztecs aim to uproot Aggies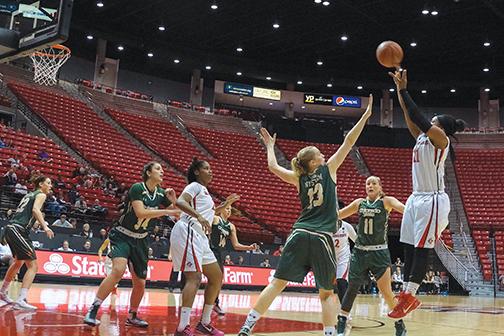 The San Diego State women's basketball team will square off against Utah State University this Saturday afternoon in Logan, Utah, in a battle that pits two struggling teams against each other.
SDSU (6-12, 3-4 Mountain West) edges Utah State with one less loss (6-13, 3-4 MW), but both teams have found greater success in conference play.
The Aztecs had their arguably most convincing win of the season on Jan. 21, trouncing Air Force Academy by a score of 70-47.
In that game, redshirt-junior guard Erimma Amarikwa, freshman point guard McKynzie Fort and freshman guard Lexy Thorderson each scored in double digits to help route the Falcons.
However, the Aztecs went on to lose their next contest against Colorado State University 49-36. That's just the way this season has panned out for the women on The Mesa.
The team has yet to string together two wins in a row, without factoring in an exhibition game against Point Loma Nazarene University and California State University, Sacramento at the beginning of the season, which didn't count toward the team's official record.
SDSU has a golden opportunity to get the first half of that coveted winning streak against a Utah State team that has had its own struggles this season.
While the Aggies have won three in a row, that came after a seven game losing streak.
But, the Aggies hold a 5-3 record at home, while the Aztecs are a dismal 1-6 on the road.
What will it take for the Aztecs to overcome yet another road loss?
They're going have to score with a team that averages more points than they do with 63.9, but also gives up 71.4 points per game.
The Aztecs will need a solid effort from their 3-point shooters, including redshirt-junior point guard Ahjalee Harvey and Thorderson, who are No. 1 and 2 respectively in 3-point attempts on the team, but have had a hard time knocking down shots.
Harvey has converted on just 23 percent of 3-point attempts, and even after her big performance against Air Force, Thorderson is shooting an even worse 17 percent.
It's not just Harvey and Thorderson, though. As a team, the Aztecs have made 23 percent of their 3-pointers compared to 29 percent for the Aggies.
Three-point shooting won't be the only determinant of who wins this game, but if the Aztecs want to keep up with the high scoring Aggies they will need to hit shots from beyond the arc.
If the 3-point shooting is not there it will be on Amarikwa and Fort, who have made just two 3-pointers between the two of them this season, but are the top two leading scorers on the Aztecs. Both are shooting greater than 40 percent from the field.
Last season the Aztecs went 1-1 against the Aggies, each team winning at home.
This year the Aztecs will not get a crack at Utah State at home, so they will need to make the most of their trip to Logan this season.