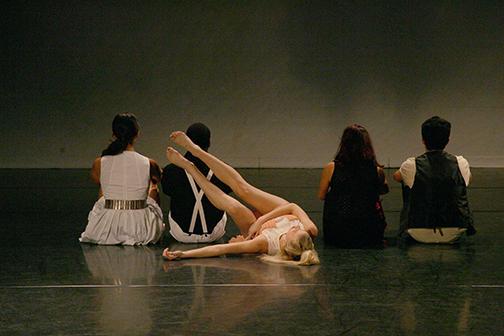 For most dancers, the intimacy and emotions felt from their craft are beyond comparison. Patricia Sandback, dance performer, choreographer and professor at San Diego State for the past 43 years, can remember the first time she fell in love with dance.
"My first inspiration about dancing was seeing 'The Red Shoes,' this iconic 1948 film when I was, I don't know, 11 years old," Sandback said. "I had this vision of wanting to be in that world."
Sandback, who grew up in St. Paul, Minnesota, had the idea early on that she wanted to become a dancer. However, she didn't start to focus intensely on dance until she was in college at the University of Minnesota.
"Although I took dance for one year of ballet when I was 13, it then stopped and I didn't start taking dance again until I was in college, where I was a physical education major," Sandback said. "And so I went back to dancing at that time. I would say I did not have the typical 'start at eight years old' dance career. I really started to learn serious dance as an adult."
Sandback started teaching at SDSU in 1972, and she has been largely involved with San Diego's dance community ever since she moved to the city from Minnesota with her husband. Specializing in modern dance, Sandback has created over 130 dances that have been featured in performances at SDSU with her own productions, Patricia Sandback and Dancers and Big Ladies, as well as many other professional dance companies.
"One of my responsibilities here as a dance teacher is to set a work on the students every year to perform in May, and I love doing that," Sandback said. "I have probably done 25 or 30 years of it. I've really loved working with the students and that has been a large body of my choreographic work."
The upcoming dance concert presented by SDSU's School of Music and Dance and directed by Sandback, "Body History: Patricia Sandback and Dancers," will be in celebration of her impactful career in SDSU's dance program, as she will be retiring at the end of the 2015 spring semester.
Many different people have mentored and given support to  Sandback throughout her career, and the Body History concert is a reflection of those who she has worked with, as well as the past and future of her career. The 13 non-student performers and seven University Dance Company performers featured in Body History span an age range of 57 years, all dancers who have shared their talents with Sandback at some point in time.
"I've worked in different ways with all of the dancers ever since I began creating work in San Diego," Sandback said. "I wanted to show the whole range and history of what every individual's training and aspirations about dance have brought together."
"Body History" premieres at 7:30 p.m. on March 13 and 14 in the SDSU Studio Theater, located in room 200 of the Exercise and Nutritional Science Building. The concert will showcase Sandback's passion and love for dance that has never stopped growing throughout her life.
"Except for a few years in my teens when I wasn't taking class, I've always had dance in my life," Sandback said. "I have no idea to know what life would be like without it."
Sandback will also take the "Body History" concert to the San Diego Dance Theater's Live Arts Fest in April. Although she is retiring this spring, Sandback can't imagine not being involved with the SDSU dance community after she leaves, and she will continue to work on various choreographic projects as an active member of San Diego's dance community.