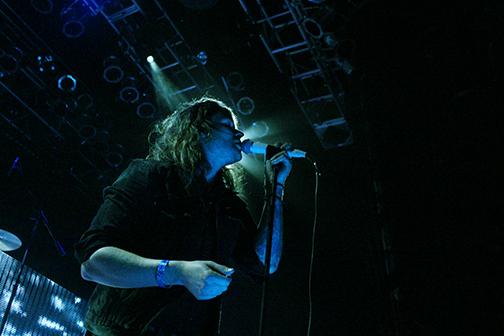 A little under a decade ago, my 15-year-old brother sat by the computer playing bands such as Taking Back Sunday, My Chemical Romance, AFI and Chiodos on repeat. The heavy guitar sounds, pulsating drums and emotional voices that I heard from his small dark room defined the feeling of a young adolescent searching for answers. During a time of defiance, disobedience and questioning, their songs became the anthem of the growing youth.
Since then, bands surrounding the young punk revival have quieted over the years; some broke up and some grew up. Taking Back Sunday is one of those bands. Despite frequent band member alterations, its latest change in 2010 brought back bassist Shaun Cooper and guitarist and vocalist John Nolan, both who re-energized the bands musical flow by bringing together everything they learned throughout their separation. Coming back with years of experience and a new perspective, their combined effort with the rest of the band produced one of the band's most honest albums to date, "Happiness Is."
February was a big month for Taking Back Sunday. The band started its 32-stop North American spring tour with the Menzingers and letlive and released its new album "Happiness Is" shortly after. Its pit stop at House of Blues San Diego on Feb. 26 was happily welcomed by many of their fans.
Pairing of Philadelphia punk band The Menzingers and Los Angeles-based post-hardcore group letlive allowed for a smooth progression into Taking Back Sunday's newly created setlist. It was a fusion of different styles of punk melded into one performance. The Menzingers' mellow sound set the stage for a radical headway into letlive's performance. The five-man post-hardcore band revived the crowd with a rousing act from its lead singer Jason Aalon Butler, a San Diego native known for his staggering performances.
Taking Back Sunday's setlist was carefully composed of songs from all its previous albums, making the performance an emotional roller coaster for the fans who have stuck through them all.
Songs from "Happiness Is" echoed with a more mature understanding of life's complications compared to a track such as "Cute Without the E" from the 2002 album "Tell All Your Friends." Lead singer Adam Lazzara's former relationship brought together the song "Better Homes and Gardens" from the new album. "When you took that ring off, I sat there stunned," Lazzarra sang. "Parked out in my car, surprised at what you'd done / The courage that must have took left me utterly speechless / And though it came as no surprise I still couldn't believe it."
Older songs that had once been a tribute to the defiance against a traditional adolescence are now a reminder of our younger selves and the values which we once held as part of the punk movement. New or old songs, Taking Back Sunday kept its fans leaning against the rails, head-banging until their necks hurt and singing as loud as their voices let them.