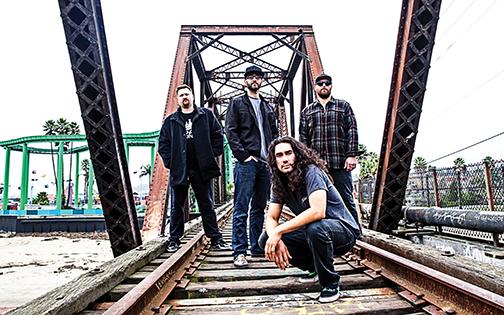 After recently releasing the much-anticipated album, "Sand in the Sky," Santa Cruz-bred reggae-rock band The Expendables will be performing their final show of their annual "Winter Blackout Tour" at San Diego's House of Blues on March 15.
"Sand in the Sky" was their sixth full-length studio album and was mixed by producer Paul Leary, who has worked with legendary bands like Sublime, U2, Weezer and Slightly Stoopid. It features 12 songs, one of which was their single and bassist Ryan DeMars' personal favorite, "Starry Night."
"The songs that made it on this album are a little more mellow than our previous releases," he said. "They're a little groovier, but there still some rock on it for sure."
The band also released a quirky music video early last December for their new song "Music Move Me," which starred a man in a full dog onesie, similar to the one worn on the TV show Wilfred. The idea was thought up by the band's friend Christopher Mintz-Plasse, more commonly known as McLovin from the movie "SuperBad."
In the video, the dog is embarrassed about his incessant wagging tail, but eventually embraces its free-spiritedness. This theme exemplifies the band's laid-back and friendly attitude, and their nonconformity to one specific genre.
The Expendables' 2015 Winter Blackout tour has been going well, DeMars said, though they have hit some "nasty weather." Regardless of the temperature, and regardless of sometimes catching an inevitable cold or flu, they always put their heart into their shows.
"Last tour I had food poisoning and I was pooping and throwing up for 12 hours straight," DeMars said. "You just have to power through it and it's interesting because the audience will never know."
Despite the band's occasional hardships that he described and the time spent away from home, DeMars thrives on his favorite part of touring: the audience's enthusiasm for their music.
"For me, it's when the crowd gets engaged and it feels like we're doing the right thing, making people happy," DeMars said. "When we really connect with the audience, that's the magic."
When they aren't on stage, the four band members, who have known each other since high school, can be found sleeping in until 2 p.m. and ordering delivery pizza to their hotels after a show.
Though they used to get into antics during their younger years, DeMars said they've learned that the secret to sustaining their success is maintaining their mental, physical, and financial health and stability.
When they make their way back to California in the next week, The Expendables will be opening with Fortunate Youth, a reggae-rock band from Los Angeles, and up-and-coming grungy-melodic rock band Katastro.
DeMars is excited to end the tour in a place that has amazing weather and reminds him of a time before the band's national recognition.
"San Diego's just so awesome," DeMars said. "We've been coming down there since the early days playing at college parties and it's kind of like our second home."
After this tour is over, DeMars plans on "freakin' relaxing," hanging out with his newborn baby and writing more music in the band's own recording studio.
"It's kind of like our quote unquote office, where we can go and pretend like we're actually doing work," he said.