Wonderland waltzes into campus theater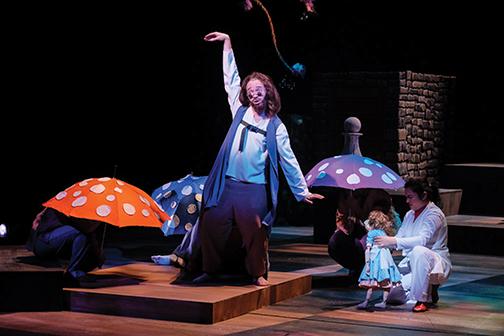 The whimsical nonsense world of Wonderland came to life this weekend in the School of Theatre, Television and Film's production of "ALICE: Curiouser and Curiouser!"
Based on Lewis Caroll's novels "Alice and Wonderland" and "Through the Looking Glass," Professor Margaret Larlham adapted the books into this original play using her favorite scenes to develop a unique take on a story where logic and dream mix together.
"I hope audiences will be enchanted and will be taken out of their preconceptions," Larlham said. "And will have a renewed delight in this amazing story."
The play was very visually driven, with captivating costumes and a set based on the premise of a distorted chessboard that has doors and secret entrances. It also had strong musical and dance elements, which is often common in children's theater.
When Alice grew or shrank, another version Alice would come on stage. Giant Alice was on a tall mobile platform that allowed her to stand at least a few feet above other characters, and tiny Alice was portrayed by a cast member holding a small puppet.
"There is a kind of humor in all the wackiness of the characters," Larlham said. "But it's so much fun to have a little bit of madness."
Sophomore Belle Adams played the regular-sized Alice, who was present throughout the entirety of the play. Adams said she loved working on a production for children's theater because it allowed her to feel uninhibited.
"When you're given the freedom to embrace being completely out-of-the-box and an over exaggerated version of a person, it opens up so many doors as an actor to loosen up and be free," Adams said. "You kind of have to become a kid yourself."
Adams also enjoyed developing her own interpretation of a character that is so universally known.
"Throughout the process I started to discover more of a spark in her," Adams said. "She's a little fiercer than the sweet blonde Disney version."
The characters that Alice encounters on her adventure could be interpreted as moral reflections of Alice herself, Larlham said. The characters included a hippie-esque caterpillar who recited "Imagine" by John Lennon, child audience members who were called onstage to play the part of oysters, and of course, Tweedle Dee and Tweedle Dum, who donned sparkly red swigs and black pants that had a hula-hoop-sized waist.
ALICE: Curiouser and Curiouser had a poetic and fluid way about it, arresting and magical scenery, and animated characters that allowed audiences to celebrate the 150th anniversary of the publication of Lewis Caroll's "Alice's Adventures in Wonderland."
It will run at 7:30 p.m. on March 12 and 13 and at 2 p.m. on March 14 and 15. Tickets are $14 for students and seniors and $16 for general admission.