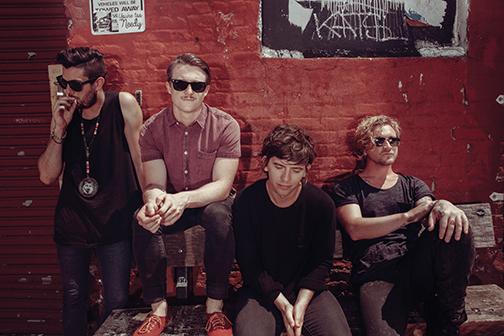 March 15 was a blur at San Diego's House of Blues. It was the opening night for indie-pop band, Walk the Moon, as it embarked on its headliner tour, Talking is Hard. The energetic party rockers that remind us to "Shut Up and Dance" almost daily via FM radio were joined by Australian electro-punk group, The Griswolds. The sold-out show featured a colorful assortment of hard-core fans with painted faces to reference Walk the Moon's signature Lost Boys look.
Those who haven't been to a sold-out show at The House of Blues, should know that it is shoulder-to-shoulder packed. Fans get to know each other really well, which could either be gross or awesome, depending on the fan.
This show in particular echoed disco, dance anthems, making it near impossible to not get a groove on.
The tone was set with The Griswolds opening performance. The Sydney-based foursome lit the stage, beaming with positive energy. Fresh off the heels of their debut album, "Be Impressive," the grungy Aussies held nothing back for their first night of the tour. The band, whose name is inspired by the '80s Van Wilder movie family, is self-described as "tequila-inspired party pop" and channels influences from MGMT to The Beach Boys to Kanye West. New hits infused with '80s synth like "Down and Out" and "Be Impressive" were definite crowd pleasers along with their breakout single, "Beware the Dog." There was enough shaggy-haired head banging, dueling guitar solos and audience involvement to qualify the set as a genuine rock and roll performance. After their set, members of the band hung out and watched Walk the Moon in the middle of the crowd. It's always rad to see musicians be so down to Earth after being a "rock god" for 30 minutes on stage.
The rest of the night was electric. Honestly, the best way to describe Walk the Moon is just fun. The Ohio-based band that got their big break in 2011 with hits like "Anna Sun" and "Tightrope," kicked off their 2015 headlining tour, Talking Is Hard.
The on-stage neon, smoke screens and kaleidoscope-like props made for a euphoric visual performance. It's music that you simply have to dance your face off to. Most would think front man, Nicholas Petricca, had a theater background from his exuberant stage presence, similar to Tyler Glenn of Neon Trees. Walk the Moon's entire set was executed to the nines, and it showed. Guitarist, Eli Maiman, shredded many flashy guitar solos, standing on speakers and encouraging the crowd. There was a pinnacle moment when Petricca addressed the Walk the Moon "virgins" in the audience, who'd never been to a show before. The sold-out venue mimicked Petricca's instructions to channel all negative energy and release it all at once in a 60-second explosion of pure ecstasy. They followed this moment with "Shut Up and Dance," which had the whole crowd buzzing with energy and good vibrations — literally, walls were shaking. The foursome ended with an encore of "Anna Sun."
After the show, fans stuck around and snapped photos with the musicians. Members of both bands showed how humble and genuinely stoked they were to be playing in San Diego. Those looking for a killer spring break mix tape should definitely download stuff from The Griswolds and Walk the Moon. Seriously, do it.