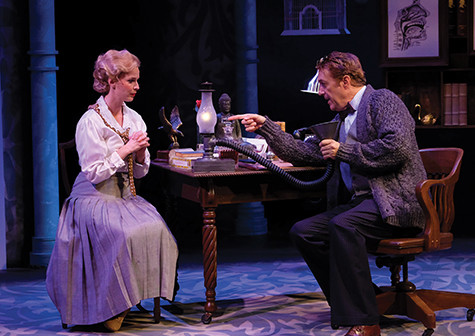 Cygnet Theatre is known for staging gritty and often dark shows that deal with heavy subject matter. However, occasionally it produces an all-ages production that appeals to those between seven and 100 years old. "My Fair Lady" is definitely in that category.
Based on George Bernard Shaw's play, "Pygmalion," the classic masterpiece focuses on a poor and unsophisticated flower peddler, Eliza Doolittle (beautifully sung and performed by Allison Spratt Pearce).
Eliza meets  self-absorbed professor of phonetics, Henry Higgins (played by San Diego State alumnus and Cygnet Theatre Artistic Director, Sean Murray) who bets a new acquaintance that he can transform Eliza into a highly articulate and gracious lady.  The acquaintance, Colonel Pickering (Tom Stephenson), becomes an unlikely ally to Eliza.
Murray originally co-directed "My Fair Lady" with David Brannen in 2007 at the Rolando Theatre, which is now known as the Moxie Theatre.
He returns to the material with a lot of respect for Alan Jay Lerner's book and lyrics as well as Frederick Loewe's music.
Even with the decision to not have "My Fair Lady" set in 1912 and take place instead in, gasp, 1936, Murray has directed a very faithful interpretation that should satisfy fans familiar with the movie version and prior notable stagings.
On opening night, some theatergoers sang along to well known musical numbers led by conductor/keyboardist Patrick Marion, and choreographed by Brannen.
Ron Choularton plays Eliza's scheming father and makes "With a Little Bit O'Luck" and "Get Me to the Church on Time" euphoric tunes that inject plenty of energy during the evening.
The biggest surprise of the entire rendition is that many ensemble members do not feel at all influenced by the original cast of "My Fair Lady." Instead, they make unique and unpredictable acting choices to create fresh interpretations of famous characters.
Murray is the only actor who seems to be paying homage to a performer from the Broadway version, Rex Harrison. Although Murray is a significantly better singer than Harrison, some of his mannerisms are eerily similar to the legendary thespian.
He is able to give Henry more of a soul than spectators might expect. This is especially evident in the final scene, which is slightly less comical and more heartwarming than the conclusion to the Oscar winning film.
While "My Fair Lady" is considered to be a timeless tale, cynics could feel that the script is too old fashioned. Yet, plenty of the sharp dialogue and ideas regarding gender, class and unconventional romance have not aged a bit.
Murray once again proves that Cygnet is equally reliable staging classic theatrical pieces as well as more experimental work.
No need to take a time machine to 20th century London when it temporarily exists in Old Town.