Teen band rides wave to success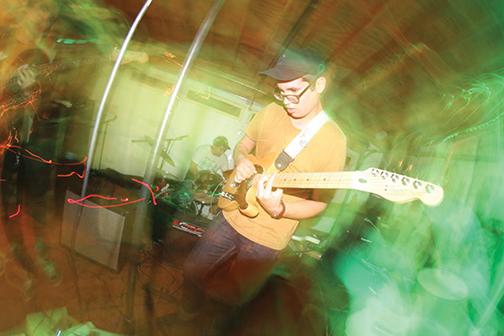 When they're not skateboarding, at the beach or hanging out at 7-Eleven, Luis Mireles, Sal Samano and Kalani Lomu are making sweet, sweet sounds for the ears as a homegrown San Diego garage-punk band called Fake Tides.
The Imperial Beach locals decided to form a band when close friends Mireles and Samano started jamming together in May 2014. Samano said he became obsessed with learning how to play bass since Mireles was already a skilled guitarist, and he picked up the bass very quickly.
"I didn't even really play an instrument," Samano said. "But I always wanted to be in a band."
Around the time that Lomu hopped on board, the pair transitioned its sound from shoegaze, a mellow and fuzzy style of rock music, to punk. With that, Fake Tides was born.
The band's unique sound is defined by melodic surf-rock riffs, placing its style as somewhere between alternative and garage-surf rock. The Smiths, Violent Femmes, Mac Demarco and Tijuana Panthers are among their musical influences.
"I listen to a lot of doo-wop and old rock n' roll surf music," Samano said, lending insight to the idiosyncrasies of his playing style.
Frontman Mireles has a heavily surf-rock influenced guitar sound as well. The San Diego State sophomore juggles school, a job and finding time to jam.
"At first it was a little hard," Mireles said. "But once I got used to my school schedule finding time for my band was easy."
Fake Tides has been featured in a variety of local lineups around the San Diego area, playing alongside young bands with a similar garage-grunge appeal. The three friends play local venues such as Soma or non-profit festivals. One of their favorite places to perform is the famous Ché Café located in University of California, San Diego.
As invigorating and valuable it is to play at big venues, the men of Fake Tides thrive at house shows. There's something telling about a band that takes up any opportunity to play in someone's living room or a friend-of-a-friend's backyard. There's a gritty, rock n' roll authenticity being proven.
"We really like meeting new people," Lomu said. "It's awesome when people stick around after we play at a house party and we get to know them."
This kind of networking has proven successful for Fake Tides. Recent local festivals the band has been lined up in are in part due to the trio's connections with people they played with at house shows.
After receiving positive feedback from such events, the musicians decided to create something tangible for their fans. It wasn't the first time they had the idea of recording original songs for listeners to access online. They originally created a four-song demo in someone's woodshed with an iPhone. However, they quickly removed it from the Web.
Their confidence was restored after deciding to take the recording into the studio. Their seven-track album titled "7th Street" was released last November, and it can be accessed on the Fake Tides Bandcamp page.
As far as future projects, the threesome plans on recording heavier, more upbeat music. The three have already been in contact with independent record label Lolipop Records and have big plans for the band's next album.
"We're going to be using analog equipment and recording more fast-paced songs," Samano said.
The guys are stoked about evolving their craft and continuing to collaborate with the "family" of local bands they've met. In fact, all of the band members spoke to the importance of supporting local music acts.
"We have to help put San Diego on the map," Lomu said.
Fake Tide's next gig is with Undercurrent on April 25 at Legend Records. New music and upcoming shows by Fake Tides can be viewed on the band's Bandcamp, Facebook and Instagram pages.