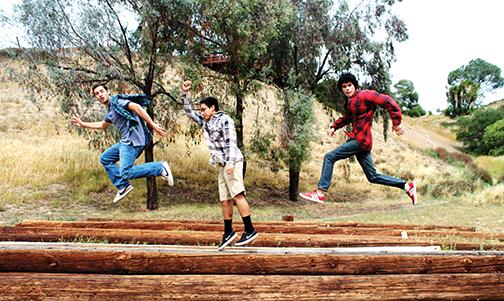 Having sunny San Diego on our side, the local bands seem to never disappoint. This time last year, the indie rockers of Hand Drawn Tree — Aniel Roderickz, Ivan Zora, Gerardo Pina and Hector Quintero — came together after fate brought them into each other's lives.
"We went to the same high school and didn't even know each other," Zora said. "I was the guy that never stopped talking in English class."
The alternative-rock unit has since then spent its time recording single after single to find its way into San Diego's music scene. To the four-man band, a "Hand Drawn Tree" is a representation of the earliest and most innocent form of creative expression for humans. Like its name, the members draw on life experiences and translate them into the simplest form of expression through music.
"I feel like every song for Hector is something that occurs in his life as well as something that is a bigger issue within society," Zora said. "It shows you that there's something wrong."
Starting out with just a couple instruments, the band's lo-fi tracks were produced by a mixture of programs to get the best results possible. Keyboardist and lead guitarist Roderickz mentions quality is the most important aspect of making music aside from the focus on live performances.
"The first thing we try is getting the best quality because we don't have any recording equipment, but we use FL Studio as well as Garage Band," Roderickz said. "Last year we were just recording. It took a long time because we had to learn everything and record ourselves but even then I'm proud of the demos we came up with. Aside from that, live shows have been our best effort this year; in my opinion it's not until a live show where people see what you're about, and actually feel your music."
A couple of years ago, San Diego's music venue options across the city were limited in comparison to today's amount of locales. With so many upcoming bands and performers centering themselves in San Diego, the music scene has blossomed into the beautiful culture seen today.
To experience this local band, Hand Drawn Tree's April concert calendar includes April 14 at Legend Records in Pacific Beach, April 15 at Lestat's Coffee House on Adam's Avenue, and April 25 at Soma San Diego.