Young solo artist matures musically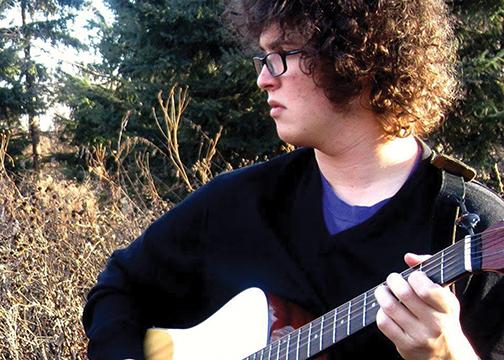 Milo-esque glasses, big curls and a guitar are Isaac. One can usually find him on campus sitting on his computer with his stereo headphones listening to music or tweaking his own tunes.
Isaac Unger-Weiss is currently a freshman majoring in Journalism. He is a multi-faceted musician who has mastered instruments such as guitar, bass, piano, drums, banjo and more. Coming from a very music-centric family, Weiss began playing music as a young child, beginning with piano.
Now at the age of 19, he is playing shows and has a new album underway. Weiss primarily goes by the stage name Isaac as a solo artist or Isaac and the Chimera when playing as a band.
Weiss began performing when he made friends at the Che Café. Now he can be found playing regularly at the Che Cafe and Legend Records. The genres that subscribe to his body of work are folk, folk-rock, indie and alternative.
"I'm always listening to new music and absorbing its influence, so I'll probably end up changing the overall sound of this project a few times, or forming other groups in other styles," Weiss says. "Music has too many facets to stay with one for too long. There's just so much to explore."
Isaac has released a few solo extended plays and singles on Bandcamp with music ranging from witty thoughts on a bad friend in his song "Nothing (Cold Coffee)" to deeply introspective full-length albums such as "August Art." His next full-length album will be with his band as Isaac and the Chimera.
Genuine honesty beams from Isaac's folk-style strumming and his lyrics that often opens up the realities of the naiveté that comes from adolescence and unrequited romance. There is clear sign of Neil Young inspiration in Isaac's music. Not exactly for the music he's put out but his attitude as a musician. Although he's only put out a small discography, Isaac shows love for variety in all of his work.
In his latest, Isaac says that many have influenced him, but for this project he mainly draws on the influences of Paul Simon, Leonard Cohen and Neil Young. True to the folk aesthetic, Isaac says he sees himself not only as a songwriter but a storyteller as well. The album he is currently working on tries to capture stories from his life in song.
"The music I write is very personal, and I feel like it represents a lot of my deepest emotions in a way that only music can," he said. "Music is the biggest thing that keeps me going every day. People are inconsistent, money is inconsistent, happiness is inconsistent, but when I pick up the guitar, or the bass or I sit down at the piano, the notes will always be in the same place, and I'll be able to make music the way I always have. When I play music, I feel like I'm fully in control."