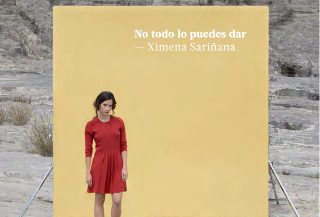 Back in 2011, Mexican pop musician Ximena Sariñana got out of her comfort zone to try something new with her music. After the success of her all-Spanish debut "Mediocre," she went to writing all but one song in English for her then-new self-titled album. The singer-songwriter not only tackled a new approach to her songwriting but she also worked to satisfy a whole different audience.
Sariñana once again embraces the new for her third record, "No Todo Lo Puedes Dar," re-released as a deluxe edition on April 21. For one, she started from scratch and went back to writing in Spanish. The new challenge inspired the change in order to grow as an artist, Sariñana said.
"Songwriting is like any muscle: you have to work at it to get good at it," she said. "So I was like, OK, I'm good at writing in English now, let's see how Spanish is going. I wasn't completely good as I remembered as I was in my other language. So I said, hey, let's do an album in Spanish to get back on track there."
Sariñana also introduced a diverse set of sounds and styles into the new album. By the production alone, the soft, glassy electronic thump of "Parar A Tiempo" can hold its own as a solid house groove. The record's catchiest tunes also show some teeth, whether it's the tough funk of "Cuando Mientes" or the blown-out guitar riff of "Sin Ti No Puede Estar Tan Mal." For those familiar with Sarinana for her adult-contemporary debut or bubbly pop in her self-titled, the new kicks in "No Todo Lo Puedes Dar" comes as a treat.
The additions came from Sariñana giving herself more free time to experiment. Much of the album is self-produced, a process she has been wanting to take on since she started making music, she said.
"I learned a lot from working on my previous album," she said. "I worked with a lot of producers, a lot of writers and artists. Just seeing how they worked really influenced me this time around especially because I felt ready to produce some of the stuff myself."
Like the shift in production, Sariñana seems ready to take on new situations and opportunities in the lyrics of "No Todo Lo Puedes Dar." Some moments, such as the title track, find her missing how things used to be. But it's ultimately her effort to toughen up and move on forward that makes the album memorable.
Part of the sentiment and struggle in the music draw from the songwriter's experience in Mexico City, Sariñana said.
"I grew up in the suburbs, away from the chaotic part of the city," she said. "I just did not have a good relationship with the chaos in my city. And this time around, I was like, you know what, if I'm going to move back to Mexico, I wanted to sort of taste that one thing that I'm afraid of."
Relocating to Mexico City led her to re-discover herself, Sariñana said. The process of self-discovery runs throughout "No Todo Lo Puedes Dar" in its new sounds and lyrics. A new environment, both in and out of the studio, has done some good for Sariñana to find her sound and herself.