Trailer park satire tacked real issues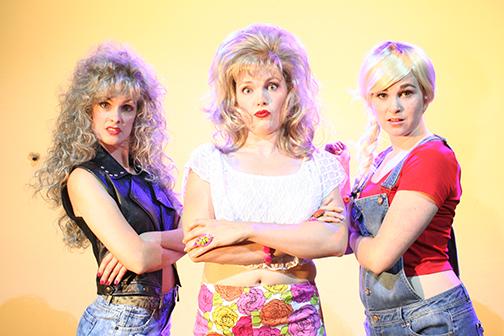 A community comprised of white-trash trailer park dwellers, including an agoraphobic former mathlete, a stripper on the run, and a woman who was named Lin after being born on the linoleum kitchen floor, graced the stage this weekend at San Diego State's Don Powell Theatre. The theater was transformed into the dysfunctional world of Armadillo Acres for "The Great American Trailer Park Musical."
The play experiments with a variety of musical styles resembling a '60s girl group to straight-up rock and roll to boogie-woogie grooves, most of which carry a light-hearted quality that gives the play a festive feeling.
"The play is really campy," said Bradley Behrmann, who plays a temperamental redneck ex-boyfriend who sniffs permanent markers to get high. "It's almost a farce because it's in this world of celebrating trashy people and all the wild things they say or own up to."
The playful costumes also added personality to the already over-the-top characters, complete with Dolly Parton hairdos and "business in the front, party in the back" mullets.
Despite all of the silliness, "The Great American Trailer Park Musical" tackles some serious and relatable topics such as the complex relationships that exist in adulthood and the way fear can cripple a person's life.
Three self-proclaimed and proud white-trash women carry the play. Betty is the most headstrong and collected of the three. Lin's husband is on death row, so Lin struggles to keep everyone's electricity on in hopes that by doing so the electric chair will be rendered useless. Pickles always thinks she's pregnant when she's actually not.
The three had a genuine chemistry that allowed the audience to feel like a part of the family as they invited everyone to join the Armadillo Acres family.
The cast members really seemed to fuse together, believing the characters' stories as their own and teaching the audience an ironic lesson in all of the madness.
The stripper finds an empowering independence in her abandonment, while the agoraphobic wife finds the strength to venture beyond her trailer in order to win back the man she loves as well as forgive him for his infidelity.
This feel-good musical left the audience smiling with a newfound appreciation for shameless pride and not taking life too seriously. "The Great American Trailer Park Musical" runs this week on Thursday, Friday and Saturday at 7 p.m. and Sunday at 2 p.m.