Showing your true colors of red and black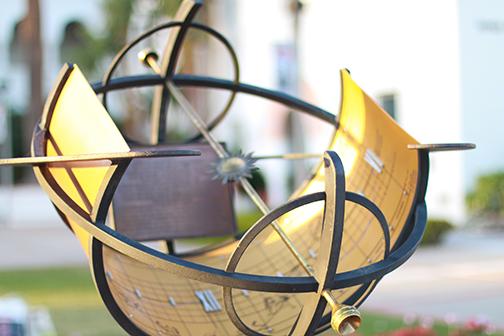 Before freshman year began, new Aztecs gathered with their families in Viejas Arena for New Student and Family Convocation. It was the first time many saw the Arena filled with red and black, but it certainly was not the last.
Four or so years later, the class of 2016 gathers once again in Viejas Arena to exit the Mesa for one final time. Families and friends will be attendance, and what were once excited, yet maybe afraid, freshmen, are now confident and capable seniors who are ready to leave their mark on the world.
With 60 percent of alumni who remain in San Diego and produce more than $2.4 billion for the San Diego economy annually, the SDSU legacy is very much embedded in San Diego culture. One in six college graduates in the San Diego area received their degree from SDSU. In total, there are more than 300,000 SDSU alumni. With a network that expansive, there has to be something that keeps pulling people into the Aztec spirit.
Campus historian and anthropology professor Seth Mallios sees the expansive alumni network as a byproduct of what makes SDSU so distinguished.
"I think there are a few things that pull people in: The first thing is being (SDSU) so tied to the local community. It's so deeply entwined with what it means to be a San Diegan," Mallios said. "That's something that has a deep pull for people."
SDSU is the third-oldest California State University and the oldest university in the San Diego region. Founded in 1897, there's more than 120 years of history and legacy on the Mesa. Mallios said the diversity found at SDSU and how deeply embedded it is in the community are both large factors in the sense of efficacy that keeps the alumni network strong.
"The university draws on their history and tradition, but the current students play a huge role as well," Mallios said. "Students have a freedom here and they've really had that through the generations."
Mallios said the sense of pride starts early now. With an acceptance rate of 34.5 percent, the standards at SDSU are high.
"That heightens the sense of belonging," he said.
AS President Blaire Ward attributes the sense of Aztec pride to the type of people who are attracted to SDSU.
"The SDSU community is made up of very passionate people," Ward said. "Whether they're doing research or they're student leaders — whatever they're interested in they're pursuing on this campus to the best of their ability. There's endless opportunities here and that's what SDSU offers: The best college experience for those who take advantage of it."
The commencement ritual is also embedded in the university's tradition. This commencement tradition dates back to 1900 when SDSU was the San Diego Normal School. Now, this ceremony bookends Convocation many students attended freshman year.
"I hope the symbolism isn't lost on people," he said. "For 116 years at San Diego State, we went through the same rituals. Everyone in the same gown. They're deliberately big and bulky, everyone is supposed to look the same. That is the moment that symbolizes right before you have all this new knowledge, passion and insight."
When tassels are moved from the right to left and caps are tossed in the air, the graduating class officially becomes the latest group of Aztecs for life. And so the cycle continues: the red and black has become a part of every graduate, instilled even more with every basketball game, Aztec Nights event, or every time two alumni meet for the first time. This is what it means to be an Aztec for life.