Associated Students of San Diego State University kicked off its Career Advantage initiative on Nov. 3. 
Held at the Student Union's courtyard, the event was created to build confidence — in the professional developmental sense — for students to have a competitive edge in pursuing jobs that gravitate toward their interests. 
With alumni networking, free headshots and job resources offered, this event kickstarted the career service sector within A.S. 
"Today is a momentous occasion that will be recorded in history," said Tarek Morsy, A.S. president. "… The students of tomorrow and even the students that graduate 100 years from now — (including) every major discipline and interest — will have an advantage in career acquisition."
Morsy, alongside SDSU President Adela de la Torre, began the event with individual speeches surrounding the Career Advantage's pathway to fostering success for those studying at the university.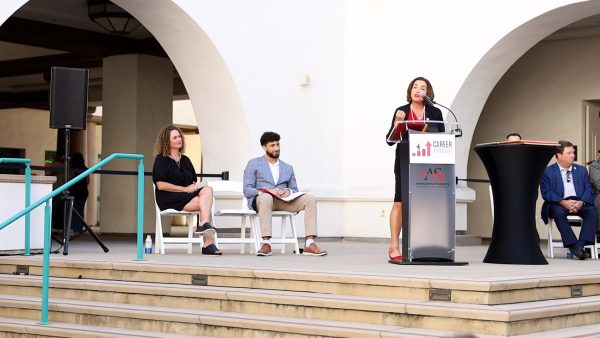 Together, A.S. and de la Torre championed this initiative to propel students to achieve prosperous jobs and make a difference in the world. de la Torre noted how burgeoning professions played an integral role in SDSU being listed as No. 43 in Forbes Magazine's top colleges in 2023. 
"Our students have launched out of this institution and have done incredible things, so when this idea came to me, I said, 'This is a perfect synergy of where we need to go,'" de la Torre said. "Our strategic plan is students at our core, but students want to do more than graduate — they want to have a career, they want to change the world and they want to have a path in order to do this."
To further inspire students to achieve greatness, A.S.'s Career Advantage had four SDSU alumni guest speakers who shared their insights with attendees. 
These speakers included Chase Fisher, founder of Blenders Eyewear, Frederick Pierce, founder of Pierce Education Properties, Angie Robert, women's chair for the Global Network of Intuit and Cody Barbo, founder of Trust and Will.
Each speaker recounted their journey from their upbringing to SDSU and to where they are now. 
Despite having unique journeys, all alumni shared a similar message for those inspired to begin their careers: become involved on campus, build connections, network, take risks and make impactful decisions. 
With their perseverance and impact on the community, all four SDSU alumni were given an A.S. Exceptional Alumni award after the end of each speech.
"It's just magical. Going to SDSU is one of the best decisions I ever made in my entire life, and if it weren't for SDSU, my life would look completely different than it does today," said Robert, who wrote for The Daily Aztec and graduated in '03. "And so the fact that career services and A.S. are opening up these capabilities and offerings to our students is just unlocking a world of opportunities that are truly going to change people's lives for the better."
Showcasing alumni and their authentic stories of achieving success added value to pursuing careers with a purpose, according to Morsy.
"(Having these speakers) is the living proof for students that you can do anything you put your mind to it, and there is something of value that you can offer to the world," Morsy said. "Don't resign yourself to a boring job that you don't believe in because these people didn't."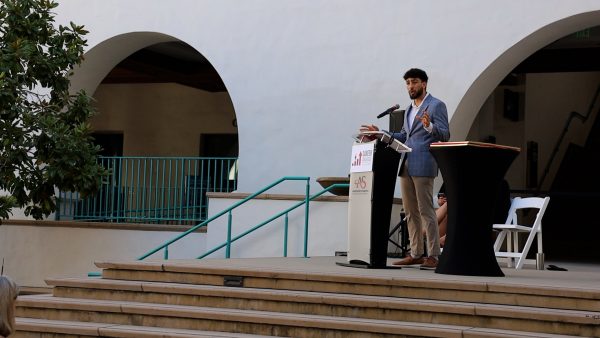 At the event, Malerie McNeill, director of Alumni and Community Engagement, announced the launch of Aztec Network. This online platform gives the chance for individuals to gain mentorship from and network with SDSU alumni, further promoting a career competitive edge for students at the university. 
After the announcement of Aztec Network, the Career Advantage event took off, with students networking with the four guest speakers, getting professional headshots or free food. Companies like Google and ASML were also at the event for individuals inclined to join those industries.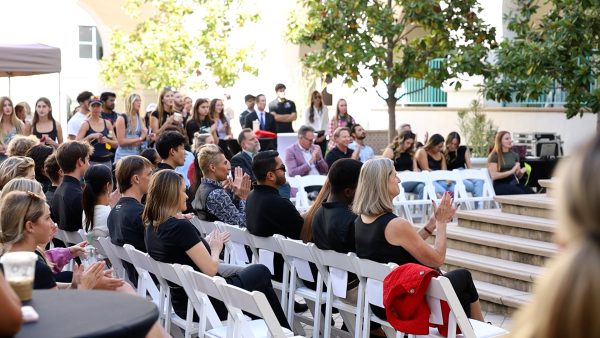 Melvin Ridley III, A.S. vice president of external relations, alongside other A.S. executive officers was in attendance at the event. Ridley reflected on what the A.S. Career Advantage Kick-off meant to him as an executive officer and student. 
"Having events like this is just as beneficial and important for me because, at the end of the day, I'm just like (everyone else). I'm just a student, (and) I have student needs," Ridley said. "But I'm also here to support students and grow professionally to where I want to be in the future."
According to Morsy, there are continuing plans for his organization to act as a one-stop shop to guide students in their career endeavors. With the help of Aztec Network and a Campus Advisory Board, these services will allow A.S. to stay informed in providing the necessary tools for the evolving needs of students in the future. 
In spring 2024, A.S. also hopes to have an alumni speaker series and a student career advantage lounge, which will be located at the Habit Burger Grill.
During certain hours — to be determined on A.S.'s Career Advantage website — this lounge will assist individuals, as well as recognized student organizations (RSO) in gaining valuable assets to stand out in the job market.
"I'm excited to see the value that we offer to students, and I hope I come back in five years, 10 years to see that career advantage is thriving and it's self-sufficient with a positive feedback loop that reinforces itself all the time," Morsy said. "I will be the happiest man alive because I know I am helping future generations of students, and all I want to do is help Aztecs be the best version of themselves and reach their maximum potential."
To stay updated on information and events surrounding professional development at SDSU, visit A.S.'s Career Advantage website here.
To view the video version of this story, visit here.