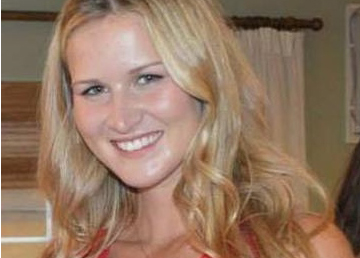 Editor's note: The writer is a member of Kappa Delta and staff columnist for The Daily Aztec.
Sara Stelzer was admitted to the hospital Tuesday, Oct. 14 and by Thursday she was on life support and we were preparing our goodbyes. Only 19 years old, she was diagnosed with Meningococcal Meningitis and it ended her life too soon.
She was a new member in my sorority, Kappa Delta, and I only had the opportunity to talk to her a handful of times. She was extremely caring, always positive and constantly smiling.
Although I didn't have the chance to get close to her, her death affected me and the members of my sorority more than you could imagine. Sara's passing truly brought us together. She was one of those people who touched the lives of those around her, and I'm blessed to be able to call her my sister.
The following memories come from Kappa Delta members.
"I met Sara on the first day of recruitment. When we found out we were both Kappa Deltas it was so exciting because I knew I'd get to spend more time with her. Every time I hung out with Sara I was constantly smiling and laughing, she had that affect on people. She could light up any room she walked into because of her beautiful smile and personality. I wish I could have had more time with her to make more memories, but I'm thankful for the ones I have because they mean the world to me and I will treasure them forever."
-TFM freshman Waverly Stephens 
"Sara is from my hometown so I've known her for awhile. She was just an amazing girl all around and people were just instantly drawn to her. Sara had an amazing personality, always cracking jokes and you could really tell she was living her life to the fullest each day. I'm amazed at the impact she had on SDSU just in her short time here – I think that just really shows how great of a person she was."
-Business marketing senior Megan Zeller 
"After meeting her on bid day, I knew she was different. She was so eager to make friends and never had a negative thing to say about anyone or anything. Sara was a free spirit that was up for any adventure. And her laugh, I wish I could explain her laugh; I swear I can still hear it replay in my head. I could not even begin to imagine what her close friends and family must be going through. All I know is that I really do miss her."
-Liberal studies sophomore Kaylee Cooper
"I first met Sara the first weekend of being a Kappa Delta. As the next month continued, Sara became one of my closest friends. It's not that Sara replaced my best friends from home, but she was among few people that were able to easily fill that void for me. Now, as much as I wish she was still here, I'm relieved to know that she is painless and among all of the other beautiful angels that were taken away too soon. It is not right to see her go too soon, and I will never fully understand it, but I know that where she is now, is a much better place than anything we know."
-Ashlynn McCool
Rest in paradise, Sara. You will be missed by all of us down here.