Aztec awarded scholarship honor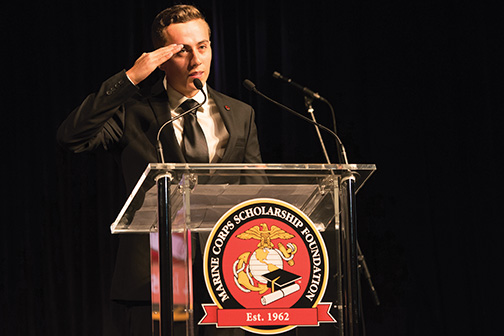 San Diego State's own Andrew Coba was awarded a scholarship by the Marine Corps Scholarship Foundation this year. This is his third time receiving the scholarship, and he was chosen to speak at the 32nd Annual West Coast Campaign Celebratory Gala.
The Marine Corps Scholarship awards scholarships to the children of military families who demonstrate financial need, or to children whose parents were killed or wounded while serving as U.S.  Marines or Navy Corpsmen. The scholarship was created to honor the families of those who have served by providing them with the means necessary to pay for a college education. General Martin F. Rockmore started this foundation 52 years ago in response to a World War II Medal of Honor recipient who could not afford to send his child to college. The scholarships have since provided thousands of dollars to the children of Marine and Navy Corpsmen, honoring their service by helping fund their children's educations.
Coba is studying civil engineering at SDSU. He is in his final year, but he plans to continue his education and build experience through interning after graduation. Coba's father is Marine Captain Javier Coba. Coba explained that his father has provided him inspiration, not only through his work in the Marine Corps, but also through his own academic progress. While serving as a Marine, his father went back to school, overcoming obstacles to become an officer and continue his education. Coba took his father's ambition as an example for his own life.
"I believe my father has been a great influence in my life," Coba said. "He has set the bar high, and has always demanded a sense of engagement and commitment from my sister and me. He's pushed us to realize our true potential, and he does this through example. I believe because of this I have gained the motivation and the vision of success. I try to always apply that."
Not only has his father been an inspiration to Coba, but he also raised him with a sense of discipline and leadership specific to the Marine Corps family background. Coba believes his background and the leadership skills he has learned will help him in his future career.
"I believe that those values I learned in my Marine Corps upbringing definitely connect with the image of an engineer," Coba said. "Engineers are leaders in their own way. They are meticulous, organized. They have to be disciplined and dedicated, as well as able to improvise when challenging problems arise."
The discipline and leadership skills innate in Coba led to him being selected to represent his fellow scholarship recipients at the 32nd Annual West Coast Campaign Celebratory Gala.
"It all originated from my being seasoned at getting these awards," he said. "At each ceremony we have leadership activities, because leadership is a cornerstone in the Marine Corps. They want to continue that legacy through this organization. I guess they saw potential in me, and they offered me the opportunity to speak. I accepted, because I felt it was a great opportunity, and I felt I was ready."
Coba spoke alongside names such as David McCallum, an actor on NCIS, Lieutenant General Terry Robling USMC, who was the Guest of Honor, and Margaret B. Davis, the President and CEO of the Marine Corps Scholarship Foundation.
"The gala was a thrill, and it was an honor to represent the voice of my fellow recipients of the scholarship," Coba said.
The scholarship also gives him the opportunity to use the award in a way that exemplifies the pride and honor of the Marine Corps Scholarship Foundation.
"The financial support is a blessing," Cobra said. "Internally, it's also been a driving force. I feel now that I belong to something greater than me, and I have to give my best efforts to represent it honorably."
This sense of belonging to something greater than him is also what led Coba down the path of civil engineering.
"I wasn't interested in the abstract, electrical engineering like my father got his masters in," he said. "I was more inclined to structures; the large, monumental kind of projects. It would be a dream come true to be a part of something larger than me."
The Marine Corps Scholarship Foundation has granted Coba the privilege of representing his peers as an award recipient.
Through his own hard work and discipline, Coba is using his award to carry out the tradition of commitment and leadership the foundation promotes.