Art students contribute to collaborative work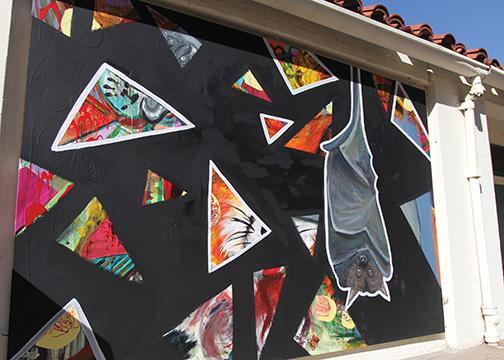 San Diego State is home to a constantly growing and flourishing art department. Talented students with specialties in backgrounds ranging from jewelry making, painting and drawing and ceramics inhabit the northern side of campus and create masterpieces daily.
The Painting II class adds beauty to campus one stroke at a time, with a large, ever-changing painting displayed outside of the art building for all to see. The "Painting in Progress" painting is meant to exhibit the unique talents that each student can contribute while working together on one cohesive piece.
"I think that the collaborative project is an excellent way to showcase how talented the class is as a whole, while illustrating how they can adapt new ideas and methods of painting," art senior Hannah Long said.
Professor Carlos Castro, a new faculty member at SDSU, teaches the class. Each weekend a pair of students paints their addition on the canvas and it's displayed for an entire week before another pair of students gets to leave their own mark on the project.
"I think the class mural is really cool because it gets the whole class involved in a collaborative work," art senior Lauren Scott said. "Also, it's really interesting to see everyone's unique styles come together and how the piece is constantly changing."
The painting began with an eye-catching, bright orange fox centered on the canvas, drawing interest from students far and wide. During the following week, a colorful background with abstract shapes and symbols filled in behind the fox.
The painting had been hanging for weeks, providing a backdrop for many Aztecs' Instagram photos. However, for a short period of time, those passing by may have found this giant work of art hard to locate. This is due to a recent controversy.
The painting was removed after two students in the class added a large male body part as their contribution. This new addition was not well received and as a result the painting was removed and locked up.
Since this occurrence, the pair of students painted a dinosaur over their original work on the canvas.
"We didn't want to paint over it, but we did it to appease everyone," studio art senior Ilse Almazan said.
Students can continue to expect to see new changes to the evolving project each week.
"That's the beauty of it," Director of the School of Art and Design Kotaro Nakamura said.
The "Painting in Progress" is one of many projects being done by the art department in an effort to increase visibility of the arts on campus and in the community around us.
"It's a way of making art mean something to people," Nakamura said.