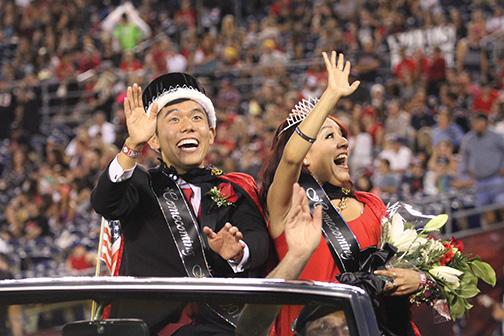 The 2014 Homecoming king and queen were announced among the bright lights and cheers at last Saturday's Homecoming football game. During halftime, homeland security graduate student Sarita Roldan and liberal studies senior Brandon Ishikata were crowned the queen and king.
The Homecoming Court is chosen to reflect those who represent the highest standard of leadership, community service and academic excellence. Student organizations can choose to nominate an individual, and then the nominee must fill out an application and include a detailed community service proposal. Following, selected applicants will proceed to a group interview. Then the top 14 students — seven women and seven men — are chosen to represent SDSU during its Homecoming week. While all the princesses and princes of the Homecoming Court were extremely accomplished, Roldan and Ishikata demonstrated exemplary commitment to the Aztec community.
In the true spirit of Homecoming, these two Aztecs celebrate the passion, joy and success SDSU has given them. Coming from varied backgrounds and experiences, SDSU's new royalty represents the diversity and essence of the Aztec community.
Leadership starts here
SDSU takes pride in its slogan: "leadership starts here." Both Ishikata and Roldan exemplify that notion and understand the importance of that ideology.
"We produce leaders of all disciplines," Ishikata said. "We're not only producing people in business, education, science, but also the next Katy Perry's, the next President Hirshman's. SDSU takes pride in what your dreams are and makes those dreams a reality. We develop all leaders."
Roldan believes that diversity is a valued attribute of SDSU students as well.
"I'm a transfer student, I'm an older student, but at the same time, I'm a representation of the school," Roldan said. "I have all these idiosyncrasies that make San Diego State, San Diego State."
Igniting the night
The Homecoming week was a whirlwind of experiences for the entire court. Both Roldan and Ishikata declared the week a dream come true while mentioning the accomplishments of their peers.
"We were a constellation," Roldan said. "Every single one of them was a star."
Roldan said experiencing Homecoming court with this particular group of students is what made the experience memorable for her. This group of 14 student leaders were inspired by one another and promised to build up one another's organizations in whatever ways they could.
"They all really are the change agents of the school," Ishikata said. "Sara (Roldan) and I both agree their change isn't going to stop at SDSU, they're going to change the whole world."
As representatives of the school, the king and queen agreed it was a surreal experience.
"It was an awesome time, especially to be honored at a basketball arena and a football stadium," Ishikata said. "I never thought I'd be wearing a tux at Qualcomm."
Unlike a stereotypical Homecoming experience, SDSU requires the king and queen to collaborate on a service project that must be inclusive with the entire student body, upon being awarded the honor. The project can occur during anytime throughout the academic year.
The king and queen both shared a similar passion for their respective community service proposals. Ishikata proposed a service project focused on the arts. Inspired by President Hirshman's Strategic Plan and Arts Alive initiative, he hopes to emphasize and encourage the arts as a vessel for understanding leadership and diversity.
On the other hand, Roldan proposed a disabilities awareness project, allowing students to understand and experience different abilities experienced by other students.
"The king is a service position," Ishikata said. "That's the greatest part about it because service is my whole life."
SDSU's royalty is best reflected through its dedication and honor. The service proponent to the position excited Roldan, as it furthered her ability to impact the campus. Ishikata and Roldan are now the official change agents of the school.
"Being homecoming queen means, more than ever, I have to leave my school better than it was before," Roldan said. "I have to come here, make a difference and then go out and make a difference in the world. It means the power to change."
Overcoming adversity
Roldan's friends refer to her as a "unicorn" because she is a cancer survivor. In 2010, Roldan was diagnosed with cancer while attending school. However, she completed her undergraduate degree through her treatments.
"That's why I started StupidCancer (here), there are not a lot of resources for students going to school (with cancer). I didn't want anyone else to feel alone," she said.
StupidCancer is a national organization, but SDSU's chapter is the first collegiate organization. This year's Homecoming court featured three cancer survivors, all three of whom are affiliated with StupidCancer and agreed that being on the court was an invaluable experience.
"We were like, this was worth living through cancer. This was worth every chemo treatment," Roldan said.
Being an Aztec for life
Roldan and Ishikata demonstrate the SDSU legacy. Both students have immensely contributed to the campus, yet SDSU contributed to developing their skills. Perhaps similar to many students, Roldan feels SDSU is her home.
"When I was on death row, it gave me a second chance to live the life I dreamed of, and to change someone else's life in the process, too," Roldan said.
Additionally, Ishikata ignites his Aztec pride by understanding SDSU's values and traditions.
"SDSU treats you like not just a number, but a valued person." Ishikata said.
Words of wisdom
As now representatives of SDSU, Ishikata and Roldan offered advice to underclassmen. They stressed the importance of finding a mentor and exploring opportunities.
"Find a mentor that is right for you," Ishikata said. "It's really important to find someone who will give you unconditional love and you'll find that connection to the school."
"This is where dreams come true — not easy, but they do come true," Roldan said. "Its a world of possibilities. It's a melting pot of dreams."