Jingle Bell Rock-Apella rocks campus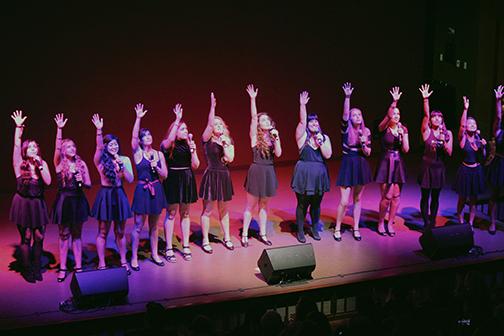 On Dec. 7, San Diego State's a cappella group Vocal Vixens hosted a free holiday concert for students, parents and friends called Jingle Bell Rock-Appella at the Conrad Prebys Aztec Student Union theatre.
The event featured guest performances by other SDSU groups Preposterone and SoundWave, as well as other collegiate a cappella groups including California State University, Northridge's Acasola, University of California, Los Angeles' groups Signature and Cadenza, University of California, Irvine's Clair De Lune and University of California, San Diego's Daughters of Triton.
The Vocal Vixens greeted the crowd with the Mariah Carey holiday favorite "All I Want for Christmas is You." Following the Vocal Vixens was SDSU group SoundWave, who featured their own renditions of the popular crowd favorites "Talk Dirty" by Jason Derulo and "Thinkin Bout You" by Frank Ocean, as well as the well-known holiday favorite "Deck the Halls."
Later, UCLA's a cappella group Cadenza showcased their talents with "Somebody to Love," originally made famous by Queen, as well as a mash-up of "O Holy Night" and "Hallelujah."  UCI's a cappella women of Clair de Lune followed with a rock 'n' roll medley, in addition to featuring "Bottom of the River," by Delta Rae and a holiday favorite, "Silent Night."
Next, UCSD's Daughters of Triton opened their acca-set with "Winter Wonderland," which led into a mash-up of the hit pop songs "Rather Be" by Clean Bandit and "Latch" by Sam Smith. Last to perform before the brief 10 minute intermission was the Vocal Vixens, producing their own rendition of the popular song "Bang Bang" by Jessie J, Ariana Grande, and Nicki Minaj.
Following intermission, the Vocal Vixens opened with "Mistletoe" made famous by Justin Bieber. Afterword, the a cappella ladies had the opportunity to show off their rap skills in a mash-up of "Lucky" by Britney Spears, and "Fancy" by Iggy Azalea.
SDSU's all male a cappella group Preposterone came next, starting their high-energy set with a comedy number "Suits," followed by a mash-up of "Peace on Earth" and "Little Drummer Boy."
Then, another all-ladies UCLA a cappella group called Signature came to the stage to showcase their musical talents. The group started with the Christmas favorite "Silent Night," then dove right into the current hits with renditions of "Wings" by Little Mix, and "Hold On, We're Going Home" by Drake.
Near the end, CSUN's a cappella group Acasola featured their skills with the holiday favorite "Carol of the Bells." In the middle of the set they sang the fitting high-energy songs "Titanium" by Sia and "Valerie" with lyrics originally by The Zutons.
The Vocal Vixens concluded the holiday show with "Demons" by Imagine Dragons. At the end of the show, Vocal Vixens President Clarice Mendoza excitingly announced that the Vocal Vixens has moved on to the Quarterfinals of the International Championship of Collegiate A Cappella. The competition will be held Jan. 21 at University of San Diego.